STORY
Five Questions for Anita Head
Director, University of Colorado Children's Center, CU-Boulder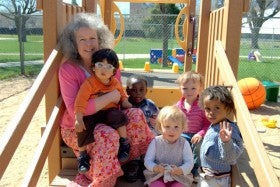 Viewing children as empty vessels in need of filling was de rigueur in learning circles not so long ago. All of that has changed. Teachers now understand the cookie-cutter approach isn't the most successful way to engage young minds. So Anita Head, director at the University of Colorado Children's Center, and her staff step back and often let the children lead.
The child care center serves all families associated with the university – students, faculty, staff and alumni. While the mix changes on a year-to-year basis, more children of students are enrolled this year. Head oversees operations at the center, making sure rooms are staffed properly and the quality of the program is the best it can be. There's always the budget to worry about. But oftentimes, Head can be found on the playground or in the classrooms, changing diapers, filling in for an absent teacher or getting to know the little ones. The center cares for 74 children ages 15 months to 5 years.
Head, who earned a degree in early childhood education from Butler University, moved into the role of center director in 2003 after being a teacher at the center since 1985. Outside the center, she helped organize a teacher's club that meets on Saturdays and provides training hours for those interested in early childhood training. She enjoys gardening in the summer and skiing in winter months.
— Cynthia Pasquale
1. Caring for children, especially other people's children, is one of the most important roles in society. What does the role mean to you?
It is a very important role. You can never lose sight of what it is to form a partnership with a family who brings a child here. I have to learn what their needs are and how we can best work together to meet their goals for their children.
Before they enroll their children, families get three one-hour visits so they get to know the teachers and see the classroom routine. I try to be very visible to families – in the classroom or on the playground – where they can find me if they have questions. We're also well-acquainted with resources in the community, such as the best kindergarten programs or where children can get their vision checked. We can refer them and that helps cement the partnership.
2. How has child care changed since you began your career?
First, kids start in child care a lot younger. By the time kids come to us, they've already been in another center, so there's definitely a need for younger children to be cared for.
The personal and professional growth is very exciting. We're finding out more about how kids learn best and how to set up that environment. Because each child learns differently, our teaching has become much more intentional.
When I was taught how to teach, we operated under the assumption that kids were empty vessels and our job was to fill them up. There's been a shift of ideas. Children come with a lot of their own thoughts, feelings and ideas. When I first started working in child care, I felt I had to fill all the gaps. Now we've stepped back and we let the child show us what they are interested in, what they might need and who they are. We teach them in the ways they learn best.
All the kids have such unique little personalities. They look at things with such curiosity – everything in the world is still new and exciting. It's amazing sometimes, to see the solutions they come up with because of their imagination and creativity. As we grow older, we start to cut off options, but for children, anything is possible.
I also just started reading a book, "NurtureShock" by Po Bronson and Ashley Merryman. It talks about the ways we interact with children and how, for instance, we can turn them into praise-junkies.
The question is, are we helping the kids please themselves or helping them please us? Take kids' artwork, for instance. We have a tendency to say "that's beautiful" whether they put hours and hours into a project or just put two marks on the paper. If you continue to get the same praise, you either see through it or aren't able to distinguish what's true. The goal is for kids to be more self-evaluative. It's much better to say, "Wow, you worked hard," or, "Tell me about the colors you chose," rather than make them want to please you.
3. What do you feel is the most important thing you can teach a very young child?
I think it is important that they develop the ability to be self-reliant and to be able to work cooperatively with other children and adults. Those are huge skills they will always need and are just as important as whether or not they can write their names. If you give a child the ability to feel comfortable making decisions or working cooperatively, they can go pretty far. Letters and numbers are important, but so are social foundations.
4. What accomplishments are you most proud of?
I feel that my biggest accomplishment is providing a quality place for kids and knowing that the work I do makes a difference in children and families' lives. I can see concrete proof in the children who have been in the program and are now teenagers and come back to visit. I feel they got a good start here and they feel they got a good start, too.
My other accomplishment is my daughter, who will soon be 12. I'm so very pleased with the person she's becoming. She's a good person, thinks of other people and has good skills. I feel very proud of who she is.
5. If money were no object, what would you do to change programs or the way you operate the center?
I'm blessed to have an amazingly talented and creative staff and they keep me energized and wanting to do the best work every day. I've always treasured the diversity of the center – children come from so many diverse countries.
What's frustrating is that university families want to come here – need to have care for their children – but most must qualify for the Colorado Childcare Assistance Program (for low-income and single parents) and be juniors in college. I feel bad for parents who are interested in the center, but once you mention the cost ... well, you can see it in their faces. They really can't afford this and we don't always have ways to help them. I wish we could get more funding or that more scholarships were available.
Literally, there is a need for more infant care, but you have to do it right. The 15-month-old room always has a waiting list. You can never make money (caring for infants) so you need lots of funding. To care for infants, you need low child-to-teacher ratios. It's hard for families to find good, quality infant care. Less and less of it is available. I also think it would be great to provide much-needed after-school programs and summer camps.