STORY
First block party on campus set for Sept. 20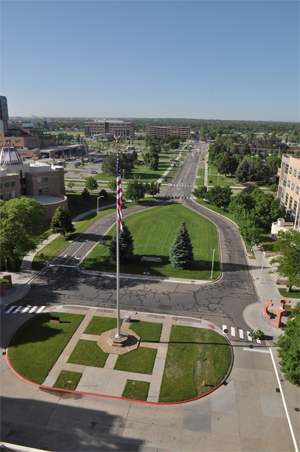 The CU Anschutz Medical Campus seems to have it all. The campus includes the University of Colorado's professional health schools, University of Colorado Hospital, Children's Hospital Colorado, University Physicians Inc. and any number of centers and organizations. But, there's been one thing missing - a campuswide tradition.
So, on Sept. 20 a new event may fill that void with the inaugural Anschutz Block Party.
Big idea
"The idea of an Anschutz campus event has been on my mind for a while," explained Lilly Marks, vice president for health affairs at the University of Colorado and executive vice chancellor for the Anschutz Medical Campus, "something that pulls everyone together on this new and wonderful campus, from students to faculty to staff at CU and the hospitals here that we partner with. When I mentioned it at a meeting a few months ago, a few others nodded their heads and suddenly we were planning."
Block party plans
A planning committee -- including all the campus entities, representatives from the city of Aurora and local businesses including the Zephyr Lounge -- was quickly put together. Student leaders also were consulted and the details started falling into place.
The Anschutz Block Party will be held on the south side of Building 500 between 11 a.m. and 2 p.m. on Friday, Sept. 20.
Aurora Court will be closed to traffic north of 17th Avenue, making room for live music, food vendors, activities and interactive booths.
Details, details
Food vendors will include restaurants from the surrounding Aurora neighborhood and the campus as well as food trucks. The invited bands are Dogs in the Yard featuring CU faculty member Dr. Dan Bessesen, The Belle Jar with Ph.D. candidate Courtney Wilson and award-winning local blues band The Delta Sonics.
Additional entertainment will be provided by Kim Robards Dance and the Aurora Symphony. There are plenty of activities planned, too, to keep everybody busy—games, massages, exercise classes and more.
F-U-N
"We want this event to be fun for everyone," Marks said, "and with the food and music and booths, I'm sure it will be. We also hope it's a reminder that we all share a campus that is remarkable. We get visitors from all over the country who come here to learn how we do things. The block party can serve as a reminder that the Anschutz Medical Campus is a special place."
Tradition
Marks anticipates a great event. "So great that it becomes an annual tradition that reaches more and more people in our campus community and the Aurora neighborhood around us."
So, mark the date on your calendar, Sept. 20, and be part of an exciting, new tradition.