STORY
Finkelstein named CU's first Timmerhaus Teaching Ambassador
Professor will promote discussion of education in state schools, communities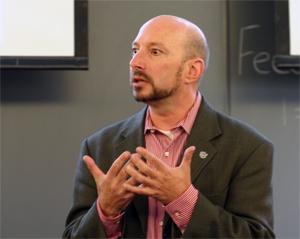 Inspired by the past and building toward the future, a new outreach program at the University of Colorado is tapping educators to promote discussion of teaching and learning in schools and communities across the state.
Receiving the honor of being named the inaugural Timmerhaus Teaching Ambassador is Noah Finkelstein, Ph.D., President's Teaching Scholar and professor of physics at the University of Colorado Boulder.
The Timmerhaus Teaching Ambassador award honors the memory of professor Klaus Timmerhaus, a member of the faculty of chemical and biological engineering at CU-Boulder from 1953 until his retirement in 1995. Timmerhaus received many honors, including being named to the National Academy of Engineering and being selected to the first group of President's Teaching Scholars at the university. An active and enthusiastic advocate of teaching, Timmerhaus provided a bequest to support designated faculty members in promoting discussion of education throughout Colorado.
After a lengthy selection process, Finkelstein was chosen because of his enthusiasm and accomplishments in teaching and learning, his leadership in his field of study, his success at advising and encouraging students, and his willingness to represent the enterprise of teaching and learning at CU.
"I'm profoundly honored by this award, and the explicit recognition and attention to education as a core enterprise of the University of Colorado," Finkelstein said. "I seek to carry on Klaus Timmerhaus' remarkable commitment to and legacy of engaging all Coloradans in education."
This year, the Timmerhaus awardee was selected from the Boulder campus, but in subsequent years, faculty across the four-campus system will be eligible to be honored with the ambassadorship, which includes a $25,000 award. During each two-year appointment, ambassadors will present talks about education and learning throughout Colorado at a variety of venues; audiences will include state lawmakers, the CU Board of Regents, educators, the media and the general public.
In consultation with the Timmerhaus Award Committee – which consists of teaching scholars from the College of Engineering and Applied Science at CU-Boulder; Klaus' daughter, Carol Getty; and Klaus' granddaughter, Kristina Getty – Finkelstein's first order of business is to coordinate plans for travel around the state speaking about the essential role of education.
"Never has education mattered more for the lives of individuals or the collective welfare of society," Finkelstein said. "Engaging through the state of Colorado, I seek to celebrate our tremendous successes, advance our educational capacities and support those efforts and communities that are committed to advancing education for our citizens and state."
Finkelstein has published more than 100 peer-reviewed articles since coming to CU in 2003. His accolades include being named a systemwide Presidential Teaching Scholar (2012), the Outstanding Faculty Graduate Faculty Advising Award (2010), the Boulder Faculty Assembly Excellence in Teaching Award (2007), first place in the National Science Foundation (NSF)/Science Magazine's International Science and Engineering Visualization Challenge (2007), an NSF CAREER Award (2005), and many other national awards from the NSF including one to build a Center for STEM (Science, Technology, Engineering, Mathematics) Learning at CU.
His leadership extends to national policy, having testified before Congress regarding the state of STEM education and now serving on the Board of Trustees for the Higher Learning Commission, which accredits more than 1,000 institutions of higher education across the country.