STORY
Fine arts a draw for CU designer's support
Philanthropy at Work: Barbara Diehl
Editor's note: Faculty and staff efforts are the heart and soul of CU -- and the inspiration for donors who are helping to achieve goals for the Creating Futures fundraising campaign.
Philanthropy from faculty and staff also has made a substantial impact -- increasing resources, recognition and goodwill for myriad programs, and underscoring why CU's work is worth supporting.
This issue, CU Connections debuts a new feature series, Philanthropy at Work. Each installment will highlight faculty and staff who have made gifts to CU. To suggest a subject for this series, please contact jeremy.simon@cufund.org
---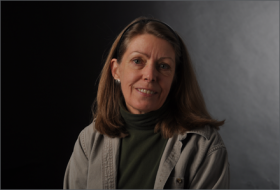 As a senior designer for University Communications on the Boulder campus, Barbara Diehl has helped CU look good – on paper and other media – for more than 37 years. And as a donor to several CU programs, Diehl has found novel ways to improve how CU looks on stage.
Diehl describes moving her parents to an assisted-living facility recently, and finding custom 1940s and '50s suits in pristine shape in her father's closet. Because theater is a passion of hers, she decided to donate them to CU's costume shop. Not only did Diehl provide needed assets to a worthy CU organization, she says, "I got a kick out of seeing 'To Kill a Mockingbird' a few years ago, and there was my dad's white Panama suit up on stage!"
Diehl is one of hundreds of CU faculty and staff who have found ways to support CU people, places and programs. While some choose to make gifts to their home academic unit, others reach out to engage with diverse CU programs beyond their occupational realm.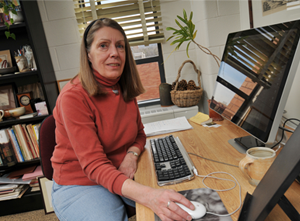 Diehl has supported programs at the College of Music, the Colorado Shakespeare Festival and the CU Museum of Natural History -- serving in advisory roles for the latter two institutions. The father of a colleague founded the Shakespeare Festival, and she describes herself as a "sucker for volunteering."
For Diehl, a former fine arts major whose small East Campus office is stacked with original artwork, it presents an opportunity to employ her passion for the arts. At the College of Music, she has supported both the Takacs Quartet, a renowned chamber ensemble with a CU-Boulder faculty residency, and a Castleman Quartet program that introduces aspiring chamber musicians to the genre's nuances and repertoire.
Despite limited means, Diehl gets great joy from giving at levels she can manage.
"It's amazing what a small contribution, $25 or $50 or $100, can do -- it can make a difference in tangible ways," she says. "My $25 can buy enough electricity to power the house lights for a few nights, or buy props for the costume shop. If you're in an audience of 400 and each of them gives something, that adds up to a lot."
Community and culture assets -- ranging from libraries to lecture series to exhibitions -- strengthen CU's foundation of arts and ideas. As CU pursues its Creating Futures fundraising campaign goals, faculty and staff gifts can help CU continue to offer strong programs, often for free or subsidized cost, to the public.
For information on making a charitable payroll deduction toward a CU program of your choosing, visit http://www.cufund.org/guide-to-giving/information-for/faculty-staf/. Estate gifts also provide a critical pipeline of support -- for more information on bequests and other planned gifts, go to http://www.cufund.org/guide-to-giving/information-for/planned-giving/.