STORY
Faculty Council honors Regent Carrigan, hears update on FCQ review
Regent Hybl also on hand for discussion of proposed diversity VP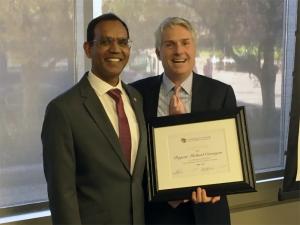 Jay Dedrick/University of Colorado
The CU Faculty Council welcomed Regents Michael Carrigan and Kyle Hybl to the governance group's Oct. 27 meeting at 1800 Grant St., where the officials discussed the university's diversity efforts.
The council also honored Carrigan, recognizing his service to the university and cooperation with faculty during his two six-year terms, which come to an end in January. Council Chair Ravinder Singh presented Carrigan with an award and certificate of appreciation.
"You are what the university is," Carrigan said in expressing his thanks. "It all comes down to you and the tremendous quality of faculty we have at CU. … Shared governance is what makes this place work."
Carrigan encouraged faculty leaders to cultivate relationships with members of the Board of Regents. "I'm a firm believer that you should build a relationship before you might have a concern," he said.
During discussion with the council, Hybl, a Colorado Springs Republican, invited Carrigan, a Denver Democrat, to detail Carrigan's effort to establish a vice president for diversity position at the system level. Hybl noted that he was among those who voted against Carrigan's proposal, which was approved 5-4 in September.
"I wanted to make sure that diversity remained a priority," Carrigan said. "We're making progress. What we haven't done well enough is increase diversity among senior faculty and administration."
Carrigan said he envisions the position entailing a combination of academic responsibilities and human resources responsibilities. The vice president would focus on increasing diversity at the system level as well as spur existing efforts at the campuses.
Partly because of those existing efforts, some council members expressed surprise at the movement to establish the VP post rather than pursue smaller intermediate steps. Others said that without more abundant resources, recruitment and retention of a diverse faculty body will be an ongoing challenge.
Hybl said he agrees that diversity is important and that CU needs to "reflect the state we serve." He said he voted against the notion of a vice president for diversity "because it is the board telling the president he has to hire an individual to do a job. … I think we have a strong presence on each of the campuses to address these issues."
Also at last week's meeting, the council heard an update on the Faculty Course Questionnaire (FCQ) Redesign Project, which may launch a pilot phase in the coming weeks. Mary Kraus, co-chair of the project's executive committee, and vice provost and associate vice chancellor for undergraduate education at CU Boulder, said the project aims to improve the FCQ – addressing faculty concerns about systematic bias in such evaluations by students, while relying more on technology and less on paper and administrative staffing.
See the project website for more information.