STORY
Faculty Council honors President Benson
'Face of the university' receives Leadership in Public Higher Education Award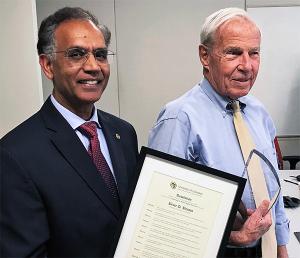 Making his last appearance at a Faculty Council meeting in his current role, CU President Bruce Benson received the governance group's award for Leadership in Public Higher Education.
At the council's May 22 meeting at 1800 Grant St., Benson was praised as "a staunch advocate for faculty (who) has championed their efforts and accomplishments in his role as the face of the university."
Former Council Chair Ravinder Singh presented Benson with a gift from the group and read a resolution listing several high points of the president's 11-year tenure, including:
The four campuses' current record enrollment of 67,000 students pursuing degrees, with another 7,000 taking courses for credit
The record level of degrees conferred annually, now at 15,000
Soaring private giving to CU, from $135 million in 2007-08 to $440.5 million in 2017-18
The 2013 completion of the $1.5 billion Creating Futures campaign, chaired by President Bruce and Marcy Benson
Increased financial aid for students, up from $88 million annually a decade ago to $202 million today
Partnering with the Colorado Legislature to shepherd the passage of more than 100 pieces of legislation to benefit effective, efficient operations at CU and higher education institutions across the state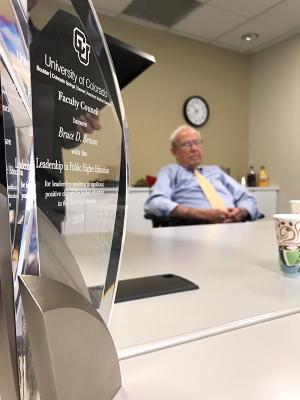 Benson thanked the council for the honor and recalled his approach to CU's educators and researchers when he took on the job in March 2008:
"We've got a great faculty, so let's not mess with it. Let's keep them strong," Benson said. "The faculty is the heart of the university. People need to understand that. We wouldn't have anything without it."
Benson, who is set to retire from CU on July 1, said he has advised Mark Kennedy, incoming president, to rely on his leadership team of vice presidents and chancellors upon his arrival. Benson will work with Kennedy in the weeks ahead.
"I really stressed to him to hold onto this staff. And I told him, 'I'm here to help you transition in and make sure you're successful,'" Benson said. "I just think everybody ought to get behind him."
Benson said he'll remain busy once he departs CU, though he wasn't ready to reveal specifics.
"Marcy and I don't plan this stuff. I'm lucky to have a wife who's so involved and so smart," he said. "We're going to see what works out after we're retired from the university. We'll figure out what to do next."