STORY
Faculty Council discusses strategic plan process with President Kennedy
Pre-planning continues with input from governance groups
The Faculty Council opened its first meeting of the academic year with a full slate of discussion topics, led by President Mark Kennedy, who presented details on his proposed strategic process plan.
The council met Aug. 29 at 1800 Grant St.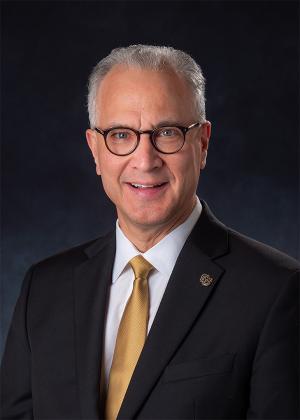 Elaborating on slides labeled "Leaning Into the Future," Kennedy called it "the plan for the plan," which will be officially presented to the Board of Regents at its Sept. 12-13 meeting at CU Anschutz. The pre-planning process is in a listening phase, Kennedy said, noting that Staff Council had received a similar presentation.
A strategic plan for the CU system is needed to align regents, system administration and the campuses, said Kennedy, who was joined in the presentation by the two co-chairs of the strategic planning process: Sharon Matusik, dean of the Leeds School of Business at CU Boulder, and Todd Saliman, system vice president for finance and chief financial officer.
Matusik explained how the pre-plan recommends three strategic pillars. The three overarching themes that drive areas of focus are Affordably Educate, Discovery and Impact, and Fiscal Sustainability.
Saliman stressed that the system strategic plan will not supplant existing strategic plans at the campuses. "We aren't getting into campus-level execution," he said. "We're doing this in order to identify ways to leverage what we already do and do it better."
Kennedy said the strategic plan must address challenges facing CU and the state, including the fourth industrial revolution and its resulting need for more workers with bachelor's degrees. At the same time, the number of Colorado high school graduates is predicted to peak in 2025.
As the pre-planning process continues, faculty members are asked to provide feedback via email to Faculty Council Chair Joanne Addison, joanne.addison@ucdenver.edu, or to CUStratPlan@cu.edu.
During a period of open discussion at last week's meeting, Addison asked Kennedy about CU's position on Proposition CC, an initiative on the November ballot asking voters to decline certain tax refunds and have the money instead go toward higher education, K-12 schools and transportation.
Kennedy said that because it is unlikely the Board of Regents would have a unanimous vote on this issue, he does not believe the regents will vote to take a position. Even so, he said he will still honor his pledge to campaign for it, but on his own time with his own resources, as a private citizen and not as CU president.
Also at last week's Faculty Council meeting:
Current leadership of the Board of Regents, Chair Glen Gallegos and Vice Chair Irene Griego, talked with faculty about the strategic planning process and their experience thus far with President Kennedy. "A lot of our detail and work right not is just in finding out who he is and him finding out how we do things," Gallegos said.
Angie Paccione, executive director of the Colorado Department of Higher Education, discussed the recent release of a Return On Investment report and the work she's focusing on statewide. "I want us to be a resource for you all," Paccione told the council, emphasizing her interest in touting concurrent enrollment, boosting cost containment and erasing equity gaps in degree attainment.
Patrick O'Rourke, vice president, university counsel and secretary of the board, updated the council on the development of a new climate survey for the CU community. He said he's enlisting the council's help in tailoring certain aspects of the proposed survey for CU faculty, staff and students. The survey apparatus is based on the Diversity Engagement Survey, developed in part by the University of Massachusetts and the Association of American Medical Colleges.