STORY
Extreme Weight Loss: Destination Boot Camp coming to Anschutz Health and Wellness Center
Yearlong destination weight loss program begins with one week at AHWC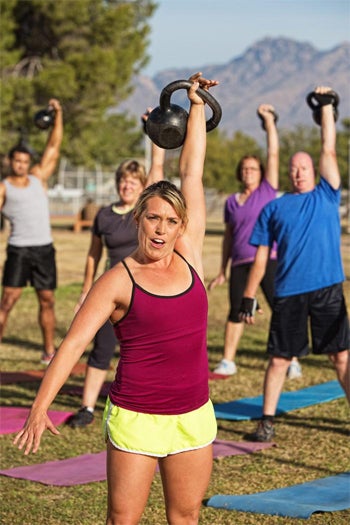 This summer, ABC-TV's "Extreme Weight Loss" series has shared the stories of people conquering weight woes with the help of the CU Anschutz Health and Wellness Center (AHWC) on the CU Anschutz Medical Campus. This fall, the Center is offering a transformation experience inspired by the show.
Participants in Extreme Weight Loss: Destination Boot Camp will spend a week at the AHWC in order to learn how to lose weight and keep if off for good. A transformation coach guides participants through a six-day schedule of physical activity, mindfulness exercises and nutrition education based on principles from "State of Slim," co-authored by Holly Wyatt, M.D., the center's medical director.
"Each week, ABC's 'Extreme Weight Loss' tells the story of one person's transformation," Wyatt said. "With our new Destination Boot Camp program, everyone now has the opportunity to experience transformation at the best place in the world for weight loss – the University of Colorado Anschutz Health and Wellness Center."
Extreme Weight Loss: Destination Boot Camp is based on over 30 years of science-based research in weight loss and nutrition. It is a yearlong weight loss program if participants complete all four scientifically-based phases:
PHASE 1 — BELIEVE IT
Begin with a one-week boot camp at the Anschutz Health and Wellness Center. Lose weight and learn to live a healthy lifestyle.
PHASE 2 — LEARN IT
Continue your transformation at home for 15 weeks, applying the "State of Slim" principles, which include weekly one-hour online sessions with your transformation coach.
PHASE 3 — LIVE IT
Learn how to live in your new body and continue to lose weight through these biweekly online sessions for four months and monthly sessions for the final four months.
PHASE 4 — CELEBRATE IT
At your graduation and one-year anniversary, you'll reconnect with your team and transformation coach for new confidence and recognition for your successful transformation.
Start with Phase 1 or buy all four phases upfront.
Phase 1 weekly sessions in October: Beginning Oct. 5, 12, 19 or 26.
You'll receive state-of-the-art assessments including:
» A dietary recall and analysis
» Height, weight and measurements
» Body composition analysis
» A comprehensive, six-dimensional wellness assessment
» A facial image of what you'll look like when you reach your goal weight
For details, call (toll free) 1-844-404-2008 or email info@ewlbootcamp.com.
Visit www.ewlbootcamp.com for more information about the program. Visit www.anschutzwellness.com for more information about our AHWC.