STORY
Experts provide mixed view of economic future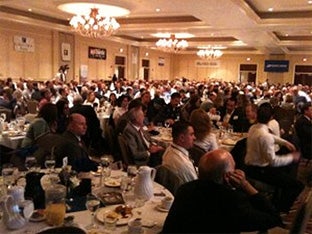 A global economic recession, led by financial problems in Europe, is likely, according to the organizers of the UCCS Southern Colorado Economic Forum.
But forum organizers Tom Zwirlein, professor in the College of Business, and Fred Crowley, senior instructor in the College of Business, believe the U.S. is less likely to feel the full effect of that recession and that El Paso County will only be modestly affected.
Providing that 6,000 to 8,000 troops will, as promised, soon return to Fort Carson from their overseas deployments, Zwirlein and Crowley believe the local economy will be insulated from a predicted financial collapse of the European economy led by problems in Greece, Ireland and Portugal. Those financial struggles combined with natural disasters in Japan and political turmoil in the Middle East lead the veteran UCCS forecasters to be concerned about the future.
"The 'r word' is one that is difficult," Zwirlein said. "We are uncertain with what is going on in the world and see many things that are far from positive."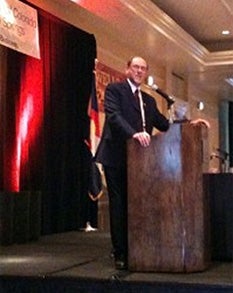 While complimentary of the military installations in El Paso County, Zwirlein and Crowley were emphatic in their encouragement of community leaders who attended their Oct. 14  presentation at the Antlers Hilton Hotel to begin working to diversify the local economic base.
"We love 'em," Zwirlein said of soldiers and military retirees who call El Paso County home. "It's great that they are here but we need more diversification in our economy if we are going to succeed."
Crowley emphasized that jobs in such fields as manufacturing and telecommunications often create related jobs. It should be a priority for the region to seek out new employers in these sectors and to work diligently to retain those who already are already.
"Retention is easier than attracting new," Crowley said.
While Zwirlein and Crowley were somewhat downbeat in their predictions, they were joined at the podium by Jim Paulsen, a chief investment strategist for Wells Fargo Capital Management. Paulsen was upbeat, saying the current U.S. economic recovery is occurring as expected and good progress is being made.
Using data from economic recessions in the mid-1980s and late 1990s, Paulsen encouraged those in attendance to disregard arguments that the current U.S. recovery is falling short.
"We've got problems, that's for sure," Paulsen said. "Some people will be hurt. But I see nothing that is recovery stopping."
Paulsen called the current economic recovery "nicely normal" and pointed to improvements in the private sector job market as well as large corporate profits and business spending before concluding with his optimism for the future.
"If the world doesn't end in the next two months," Paulsen said, "2012 is the gear year to move the nation's economy forward."
– Photos by Tom Hutton