STORY
Exceptional service earns honors for four staff members
Awards a highlight of annual All-Staff Council Conference
Four staff members of the University of Colorado received awards for service excellence at the annual All-Staff Council Conference on April 12 at the Lawrence Street Center on the University of Colorado Denver campus.
The honorees were selected from nominations from the university campuses and system administration. Awards honor outstanding volunteer service, and the employees' efforts to enrich their campus, community, and the university as a whole.
The awards were presented by President Bruce D. Benson, CU Denver Chancellor Don Elliman and University of Colorado Colorado Springs Chancellor Pamela Shockley-Zalabak. Award-winners, who received a plaque and a $1,000 prize, are: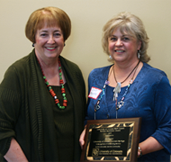 Jane Muller, UCCS, works in two half-time positions in Women's and Ethnic Studies and the Center for the Study of Government and the Individual. She was a member of the University of Colorado Staff Council from 2006-2012, has served on a variety of university committees, and volunteered with the GSPA Leadership Conference, the Math Olympiad and UCCS commencements. She also is affiliated with the American Heart Association, the Relay for Life Rally, and is a member of the Limited Government Forum.
"Jane is deeply committed to serving CU and the community. Jane exemplifies the qualities that in our mind characterize the very spirit of this award: distinguished service and leadership. We also wish to add that Jane is an exceptional human being in every way. She is respected, universally, by faculty, students and staff, for she embodies the very best ideals that CU emulates: honesty, compassion, absolute professionalism and integrity, coupled with exceptional service," wrote Muller's nominators, Abby Ferber and Andrea Herrera, Women's and Ethnic Studies, and Jim Null, Center for the Study of Government and the Individual.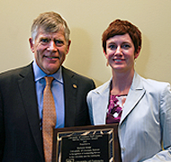 Michelle Medal, CU Denver, is the program assistant for the Department of Communication. She serves on the CU Denver Staff Council and is an advocate for the "Healthy Moves" program sponsored by Metro State University. She serves as president of the Zonta Foothills Club of Boulder, an international volunteer organization whose mission is to improve the lives of women and girls locally and worldwide.
"Since joining our department several years ago, Michelle has proven to be a knowledgeable, resourceful, creative, hard-working, conscientious, professional and exemplary member of our staff. In short, our department – and CLAS – is lucky to have her," said Lisa Keranen, associate professor and director of graduate studies. Medal was nominated by Stephen J. Hartnett, professor and chair of the Department of Communication.
Sarah Douvres (not pictured), University of Colorado Boulder, is a program assistant for Housing and Dining Services. She has served on the Boulder Campus Staff Council since 2007, and has served, including as chair, on a variety of university committees. She also participates in a variety of volunteer efforts, including her department's County Road Pick-up twice a year, Habitat for Humanity and the annual Giving Tree for needy families.
"Sarah is a 'positive' person we should all be so lucky to encounter in life. She thrives for forward progress, is productive and active, always friendly and professional, truly goes out of her way to help those around her, presents great ideas and is certainly no slacker when it comes to follow-thorough. Sarah's sense of humor is very welcoming: She's the first to volunteer to wear a snowman costume, pose in the funny hat or to stand in front of a crowd to do a presentation that no one else would step up for. … Sarah is an outstanding person who demonstrates strong and consistent leadership. Her charm shines through in her dedication to making our world a better place," said Lori Jackson, Boulder Staff Council Administrator. Douvres was nominated by Gregg Lundgren, Housting IT.
Travis Chillemi, system administration, is a communication technology manager in Finance and Procurement Business Services (FPBS), Office of University Controller. He has helped develop the system website and other communications development projects. He devotes time to the Justice Run, dedicated to raising money and awareness for the victims of trafficking; the Girl Scouts; Mothers of Pre-Schoolers; and several schools and churches.
"Many at CU system administration know Travis as a cheerful, competent professional who is always ready to lend a hand or make them laugh. What many do not necessarily know is how those traits and attitudes extend throughout Travis' professional/personal life, prompting him again and again to reach out in service to a friend, a stranger, a school, a church, a professional association, or a community – including the community that is CU. It is his character, and how he translates his beliefs into action, that make him an ideal candidate for the UCSC 2013 Excellence in Service Award," said Normandy Roden, director of FPBS, who also nominated Chillemi.
Besides the awards presentations, about 40 members from the different campus, system and university councils listened to presentations that centered around the conference theme of communication.
Jay Dedrick, internal communications manager, and Cathy Beuten, multimedia editor, from the Office of University Relations, discussed efforts to inform university employees as well as the outside community about CU issues.
Dedrick discussed CU Connections, the weekly online staff and faculty newsletter, and took questions from the audience about the newsletter's mission. He also discussed the CU Advocates program, which encourages employees, alumni and community members to share the word about the university's value. Beuten gave the audience a preview of the new system website, scheduled to launch this summer, and talked about social media platforms and the efforts to improve outreach to a variety of constituent bases.
An afternoon presentation and mini-workshop was presented by John McDermott, senior instructor at the School of Education and Human Development at CU Denver, and centered on motivating and engaging people in the workplace. McDermott has taught for more than 40 years and is the co-author of "Clock Watchers" (2009) and "Just Right Challenge," which will be published this year. McDermott discussed the six C's of motivation and engagement: Caring Community, Challenge, Choice, Checking in/Checking out, Collaboration and Celebration.