STORY
Employee and Information Services pilots Girls Who Code training program
Successful week could lead to similar future offerings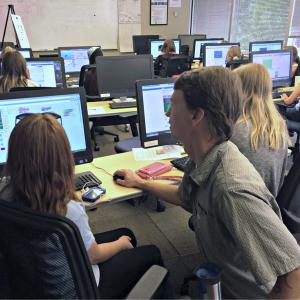 The University of Colorado's University Information Systems (UIS) this month piloted a training session for 13 girls ages 10-13 inspired by the curriculum of Girls Who Code. Taught by UIS's Kevin Sarsen, Senior Service Oriented Architecture (SOA) Engineer, the aim of the weeklong pilot was to stimulate girls' interest in pursuing opportunities in the computer sciences, equipping them to compete in the ever-evolving and highly competitive computing technology industry.
Research shows that in recent years the number of women pursuing careers in computer science has significantly dwindled (Computing Trends e-zine), with only 18 percent of female college students graduating with a degree in computer sciences. CU has policies in place that encourage and facilitate programs like the Girls Who Code-inspired pilot, involving university staff with giving back to the community through education.
The girls, daughters of CU system administration staff members, were highly complimentary about the program. One parent stated that his daughter was "excited about game development and this gave her a small taste of the IT world," while another parent said that his "daughter learned a lot and had a lot of fun; her favorite part was experimenting with the program."
The success of the pilot may lead to UIS offering similar and more progressive summer training sessions and perhaps even the determination to sponsor the first official Girls Who Code club in Denver.
For more information about CU's Girls Who Code pilot program or to express interest in future training opportunities, email the UIS Business Operations Department at uis_busops@cu.edu.