STORY
Elliman puts innovation and service at forefront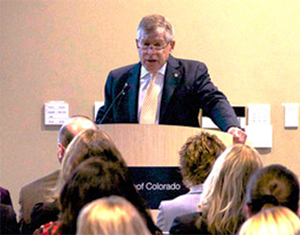 The University of Colorado Denver needs to be adaptive, responsive and relentlessly innovative in the fast-changing environment of higher education, Chancellor Don Elliman said in his State of the Campus address.
Elliman spoke to a standing-room-only crowd in the Terrace Room as he highlighted CU Denver's many achievements of the past year and addressed the challenges on the horizon. The large audience on Oct. 30 included Steve Bosley, a member of the University of Colorado Board of Regents.
Elliman said CU Denver, celebrating its 40th anniversary, welcomes its largest and most diverse freshman class at a time when students' needs are far different from decades ago. More than ever, the university must offer services based on students' needs first.
"I realize that considering student needs is already well in our culture, but the bar has been raised and continues to go upward," Elliman said. "We need to respond. If we don't, our students will seek -- and they will find -- alternatives."
The chancellor outlined progress CU Denver has made on the five campus-wide priority areas identified in last year's State of the Campus address:
Harnessing technology to our best advantage (progress of the Technology Review Committee and consolidation of disparate units that work on information technology into one organization, the Office of Information Technology, as well as offering more online options).
Developing new programs (new programs in all schools and colleges to better serve students as well as serve workforce needs in the community).
Increasing awareness of CU Denver (the "Learn with Purpose" advertising campaign and progress on defining and marketing the CU Denver brand).
Growing our enrollment and addressing other aspects of our financial situation (a freshman class that's up 16 percent from last year and more diverse than ever; the biggest-ever fundraising year with $18 million in philanthropy, and focused efforts to increase the types and amounts of research grants to CU Denver).
Fostering student success.
Elliman said a quote by Adlai Stevenson, former governor of Illinois and presidential candidate, sums up the core of CU Denver's mission: "We do not follow in America the jungle doctrine of the survival of the so-called fittest. We follow, rather, the doctrine of fitting as many as possible for survival."
The chancellor said student success is "arguably one of the single biggest challenges we face" and that "significant progress" is being made.
The university is putting more resources into analytics related to the entire life cycle of a CU Denver student, from recruitment and enrollment to graduation and afterward. This includes a "service blueprinting process" to look at student services from a student's point of view and examine "pain points" that needlessly complicate the student experience.
Ensuring student success
Elliman highlighted many ways CU Denver is helping students persist to obtain a degree. They include:
Mandatory summer orientation for all new freshmen.
Starting next fall, when the new academic building opens on time and on budget, we will have a "one-stop shopping" space for student services.
A restructured Student Affairs division that works with students from recruitment through graduation and beyond.
Improving the Degree Audit Reporting System (DARS), and updating the course catalog to ensure that degree requirement information is current and easy to find.
Improving and streamlining our academic advising.
Engaging students through more events and fostering a sense of campus community through more extra-curricular clubs and the Club Sports program.
Elliman said everyone at CU Denver is to be commended for their dedication to helping our students persist and graudate. But still, he said, universities have had a tendency to focus inwardly. "Our job has been to teach, and it has been up to the student to learn. That formula will not compete in today's world," he said. "We have to figure out how to be more connected to student learning -- including making the process easier to access, more flexible and beyond that, more supportive."
Soliciting ideas
He asked the faculty, staff and students for their ideas on ways we can further innovate to meet the ever-changing challenges in higher education. He asked that ideas be sent to CUDenver-ideas@ucdenver.edu. "Push us, but please, push us constructively ... Help us think of solutions. I promise we will listen."
Elliman concluded that while change is difficult, to not change would be fatal. "We are an urban research university -- a very good one," he said. "Let's work together to be even better."
The chancellor's comments hit home for students in the audience.
"His speech was insightful, and it gave me, as a student, hope for the future," said Lubna Mazin, student body vice president.
William Card, a music major, said, "As a freshman, it was comforting to see what the university does to meet the needs of a changing student body."
For the complete 2013 State of the Campus address, click here.
Alyssa Kriese contributed to this story