STORY
Elected officials join with CU Advocates for show of support
Annual CU Advocacy Day highlights university's contributions, challenges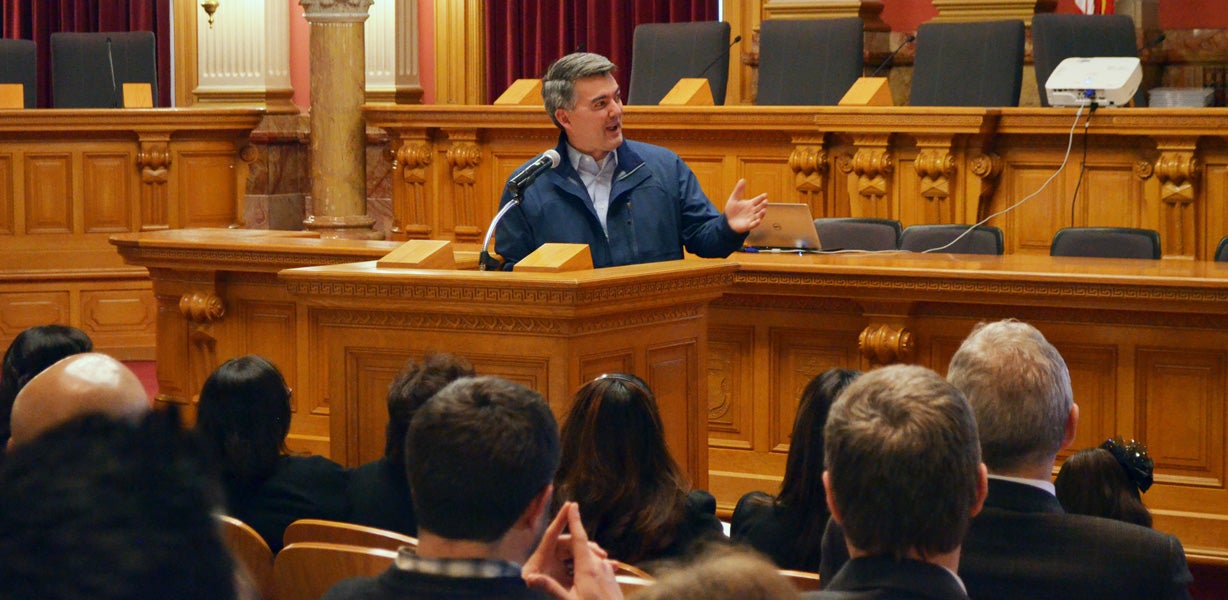 Cathy Beuten/University of Colorado
University of Colorado Advocates – including supporters, alumni, students and members of the business community – gathered Tuesday with elected officials at the Capitol for the annual CU Advocacy Day, which showcased student success stories and research achievements while also highlighting state budget challenges and the university's legislative priorities.
Presented by the CU Advocates program in the Office of the President and the Office of Government Relations, the event drew about 100 CU Advocates and others for a program that included remarks from Colorado lawmakers Sen. Rollie Heath, Sen. Matt Jones, Rep. Jovan Melton, Rep. Joe Salazar, Sen. Jack Tate and Sen. Jessie Ulibarri.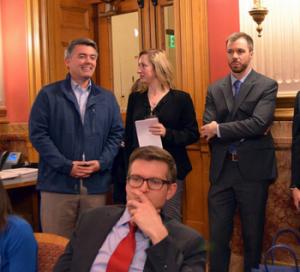 U.S. Sen. Cory Gardner, a CU School of Law graduate, made an unexpected appearance and praised the "top-notch, pioneering research and academics of the University of Colorado." He encouraged CU Advocates to continue their engagement with government leaders.
"Policy doesn't happen in a vacuum," Gardner said. "When you take the time to come to an event like this and meet with your legislators, it makes a difference."
Salazar talked about the impact of CU's Pre-Collegiate Development Program on his life while an at-risk student at Thornton High School.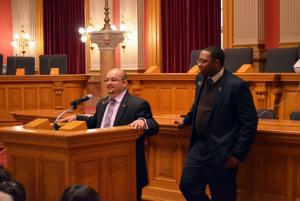 Cathy Beuten/University of Colorado
"It changed my world. I couldn't get out of high school fast enough," said Salazar, who went on to become a student leader at CU-Boulder. "CU, that was everything for me – it created everything."
His testimony served as an appropriate precursor to a presentation by Chris Pacheco, director of the CU Pre-Collegiate Programs and CU Pre-College Outreach and Engagement. These efforts at the campuses give first-generation students exposure to higher education and campus life that they might not otherwise experience; more than 90 percent of participants go on to attend college at a CU campus or other higher education institution. Pacheco introduced staff members and alumni of the program to the audience.
CU President Bruce Benson thanked CU Advocates for their work on behalf of the university, and said his aim is to further foster growth of the group that now numbers 3,200 around the world (2,000 in Colorado). The program is led by Michele McKinney, assistant vice president of advocacy and external relations, who introduced the day's guests.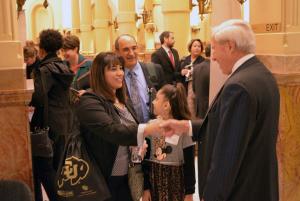 Cathy Beuten/University of Colorado
CU leaders attending the event included Regents Kyle Hybl (chair), Michael Carrigan and Sue Sharkey, and new CU Denver Chancellor Dorothy Horrell. Also present were two announced candidates for the Board of Regents race in District 1, Jack Kroll and Zach Rothmier.
Vice Presidents Tanya Kelly-Bowry, government relations, and Todd Saliman, budget and finance, detailed the outlook for state funding and the role of CU Advocates in promoting CU's public good across the state.
With the legislative session underway this month, Saliman noted the proposed $20 million cut to higher education and explained how a proposed shift of the hospital provider fee out of the state's revenue column would alleviate pressure on the budget and lead to fewer cuts. Jones called the change "a simple fix that would help education and roads."
Heath said he and other leaders are hoping that the 2016 ballot will include some measure to change TABOR details that currently prevent the state from retaining all the revenue it collects. Such a ballot issue, Heath said, would not raise taxes.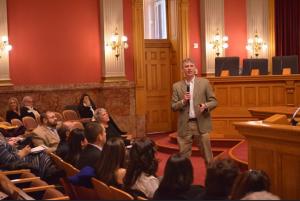 Cathy Beuten/University of Colorado
Before a post-event reception for attendees and other lawmakers at the offices of Benson Mineral Group, David Brain, assistant professor at CU-Boulder, highlighted the newsmaking science of the CU-Boulder-NASA Mars MAVEN mission. Besides generating groundbreaking research, the $680 million project included $300 million spent in Colorado. He introduced three students who are hard at work on learning from and contributing to the mission's science.