STORY
El Pomar gift leads to new name for Science and Engineering atrium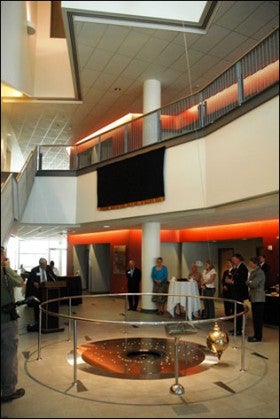 An atrium in the Science and Engineering Building now has a name, in recognition of a $1 million gift.
El Pomar Foundation of Colorado Springs made the donation through the CU Foundation to aid the construction of the Science and Engineering Building, the largest building at UCCS. Since opening last August, it has received praise from students and faculty who use the building as well as professionals who have lauded its design and energy saving features.
The July 1 ceremony in the El Pomar Trustees Atrium featured comments by CU President Bruce D. Benson and UCCS Chancellor Pam Shockley-Zalabak, as well as an unveiling of a plaque noting El Pomar's gift by Carolyn Fox, an architect with Facilities Services. El Pomar representatives and campus faculty, staff and students attended.
"The construction of Science and Engineering was an effort of many who represented both private and public support," Shockley-Zalabak said. "It is fitting that we recognize the leadership of El Pomar with a public thank-you and recognition of the foundation's role on campus, in the community and within the state of Colorado."
Science and Engineering is the largest (156,000 square feet) and most expensive ($56.1 million) building at UCCS. It houses the departments of biology, physics, and mechanical and aerospace engineering, as well as the National Institute for Science, Space and Security Centers and the CU Institute for Bioenergetics. A K-12 center helps teachers encourage elementary, middle and high school students to consider science and technical studies. The building features solar power and other energy-saving construction and operation techniques that earned it a Leadership in Energy and Environmental Design (LEED) gold award.
El Pomar Foundation's previous gifts to the university include a $4 million gift in 1999 to build El Pomar Center and expand and remodel the Kraemer Family Library. A clock tower is named in honor of that gift. In 1990, El Pomar Foundation donated $3.15 million to create three endowed professorships that are the backbone of El Pomar Institute for Innovation and Commercialization, which serves as a catalyst to encourage collaboration between the university and business as well entrepreneurship in the region.