STORY
Donors, students celebrate achievements at CU Anschutz scholarship luncheon
Annual event recognizes generosity, hard work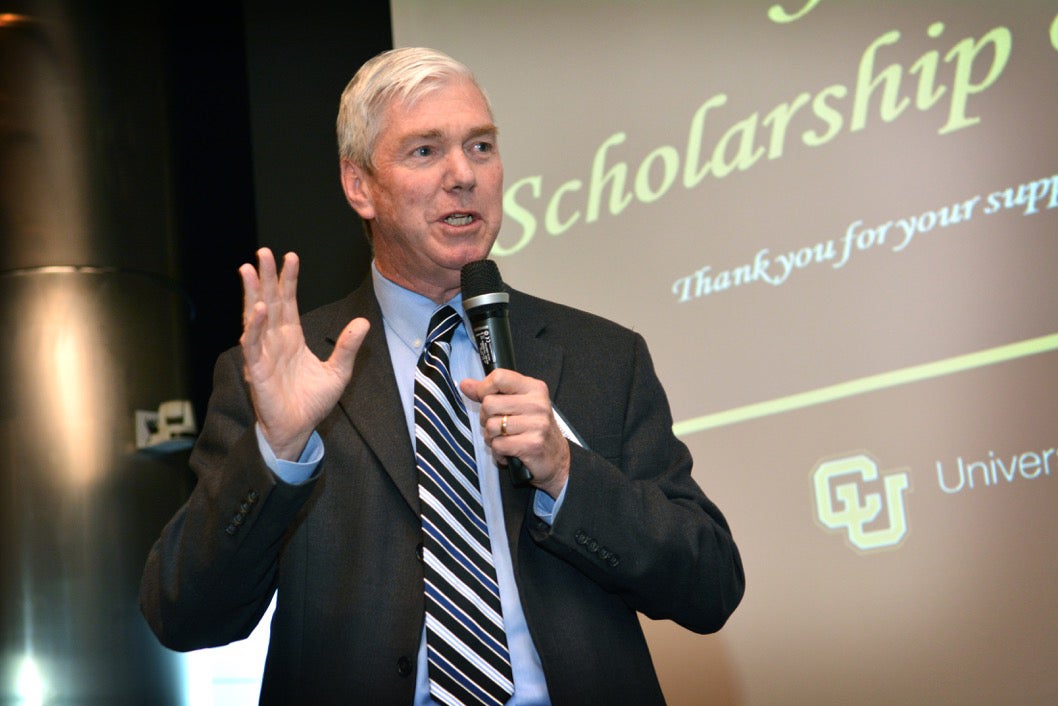 Patrick Campbell/University of Colorado
Students, faculty and staff from the University of Colorado School of Medicine joined donors and fundraisers for this year's Scholarship and Awards Luncheon on Feb. 5 at the CU Anschutz Medical Campus. This annual event is a special opportunity for everyone to meet and recognize one another for their generosity and hard work.
"I think donating scholarships, at some level, is the highest calling of what we are privileged to do," CU Anschutz Chancellor Don Elliman told the audience, "and to have a lunch like this is a great moment to celebrate that fact."
In the last academic year, more than 150 CU medical students have benefited from $2.2 million in scholarships. The difference this money has made can be read on the relieved, smiling faces of students all across the room.
Among the many donors and fundraisers at the luncheon were members of the Colorado chapter of the Achievement Rewards for College Scientists (ARCS) Foundation, who gleefully caught up with fourth-year student and ARCS scholarship recipient Anson Snow. The ARCS Colorado chapter supports students across the state, including nine at CU Anschutz, who are studying science, engineering and medical research.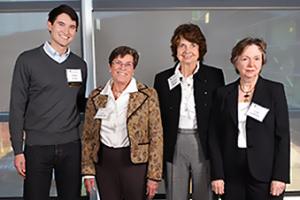 Patrick Campbell/University of Colorado
"We have a lot of scholars that tell us they get money but they don't know who it comes from," said ARCS Co-Vice President Lyda Ludeman, highlighting one of the main reasons for this annual event.
"The scholars is what it's all about," added ARCS Director Sherrye Berger, "and when you see a scholar and you see that we're helping them in some way, that makes it all worthwhile for us."
Medical school students today graduate with an average of $160,000 in debt, and changes in funding and financial assistance from state and federal sources have made scholarships ever more important for these students.
"It's a relief," Snow said. "It takes off that burden so I can find what I really like and not necessarily something that will just help me pay off my student loans quickly."
Scholarships not only reduce the burden of debt for students, but also help attract, educate and graduate the most promising students. CU President Bruce Benson's initiative to match certain scholarship donations, for instance, has been able to support an increase in the number of underrepresented students at the CU School of Medicine from 25 percent to 40 percent over the last four years.
One of those students is Monica Davern, who told those at the luncheon, "There are very few things that are affordable or inexpensive when you're a medical student. I am honored to be surrounded by the people who contributed so significantly to my medical education and to my life."
Davern's family is from Colombia, and she is the first in her family to go to medical school. A scholarship sent her to Thailand after college to help with HIV research, which inspired her to apply for medical school. This year, the Justina Ford Scholarship for Commitment to the Underserved is supporting Davern's dream to finish med school at CU and earn a residency in neurosurgery.
"The journey so far has been one of privilege, insight, self-discovery and excitement," Davern said as she closed her speech. "None of this would have been possible without financial help, and for that I am extremely grateful. Thank you very much for your contribution to this incredible field — your investment in medical education has not gone unnoticed."