STORY
Donors in spotlight for helping 'faculty, staff and students push the boundaries of the possible'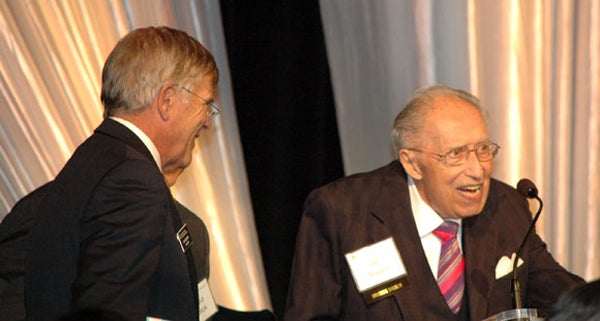 The annual Donor Recognition Dinner highlighted stories of risk-taking entrepreneurs, benefactors who have touched the learning pursuits of CU Denver and the clinical activities ofCU Anschutz, and a physician who served the university for over 50 years.
About 500 people attended the eighth annual event in the Seawall Ballroom in the Denver Performing Arts Complex on March 12. Booths displaying current research and education projects being conducted by CU Denver and CU Anschutz students and faculty lined the edges of the ballroom.
The donor generosity that fuels those projects and many more like them, as well as the endowments that enrich students' educational experience and the new facilities that enhance our campuses and help push the boundaries of scientific discovery, was put in the spotlight — at the podium and on the screen. The special contributions of each donor recognized — entrepreneur Jake Jabs, the Temple Hoyne Buell Foundation and Guillermo "Bill" Aragon, M.D., and his late wife, Maria de Lourdes Aragon — were shown in compelling video stories.
The video about Dr. Aragon's contributions included his amusing tale of racing through downtown Denver streets one night to get to then-Denver General Hospital in time to perform surgery on a police officer who'd been shot. When Dr. Aragon got pulled over for speeding en route, he sternly told the officer, "If you detain me for as much as a few minutes, your fellow officer is going to die."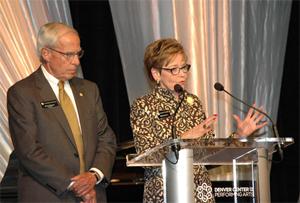 Speakers at the gala included CU Anschutz Chancellor Don Elliman, CU Denver Chancellor Jerry Wartgow and CU President Bruce Benson and his wife, CU first lady Marcy Benson. CU Denver jazz piano student Jon Griesinger provided musical entertainment.
Elliman summed up the importance of donors to the university and the transformational results of their generosity by saying, "While tonight's gathering recognizes the support you've provided in the past, this is really about the future—and I can tell you in no uncertain terms that the University of Colorado Denver and the Anschutz Medical Campus are the future of Denver, Aurora and Colorado … and for our world."
President Benson told the audience that CU Denver and CU Anschutz deliver exemplary educational and clinical services, all while being extremely efficient in operations. "We're constantly working on generating more funding, and private-public partnerships are one way," he said. "We've got them all over these campuses."
He thanked faculty and staff for their above-and-beyond performance, adding, "I'm just really proud of all of these people for all that they do." Marcy Benson highlighted the dedication and hard work of the the university's fundraising staff.
In his remarks about CU Denver, Wartgow said, "CU Denver is Denver's research university downtown, creating life-changing opportunities in education, research and community outreach."
Elliman highlighted the clinical and educational excellence that abounds at CU Anschutz. "It is directly related to the strength of faculty, physicians and researchers who fuse their expertise to create the leading-edge treatments that produce some of the best clinical outcomes anywhere," he said. "As Coloradans, we're fortunate to have world-class comprehensive care right in our own backyard."
Elliman said that over the last 10 years, the university has seen private gifts and commitments more than triple. "We've broken fundraising records for two years running and we're on track to do it again in 2015," he said.
Jabs was recognized for his gifts to the CU Denver Business School which created the Jake Jabs Center for Entrepreneurship, which will help the university nurture the next generation of entrepreneurs and deepen its connections with the Denver business community. Jabs told the audience, "The thing about education is it gives you confidence. It gives you confidence to take risks. And taking risks is the reason I'm standing here today."
The contributions of the Temple Hoyne Buell Foundation, represented by Executive Director Susan Steele and President Daniel Ritchie, span both the comprehensive teaching and learning pursuits of CU Denver and the health and clinical activities of CU Anschutz. "With support for a range of vital initiatives, from excellence in early childhood education to innovation in biomanufacturing, the Temple Hoyne Buell Foundation is making it possible for the university to advance its important work in so many fields and to create a bright future for the people of Colorado," Elliman said.
Dr. Aragon has served the university in many ways over the years, starting with a medical residency in 1951 and later teaching surgery to medical students while practicing as a surgeon at Denver General. With a generous gift of an endowed chair in surgery, Dr. Aragon and his late wife, Maria, allow the university to advance the field of surgery and recognize top faculty.
Aragon summed up the giving-back theme of the evening by saying, "Every single one of us who goes to a medical school, or anywhere else, owes a tremendous debt to the institution. It's terribly important that we all help this great institution."