STORY
Donation of $4 million to spur UCCS academic health sciences building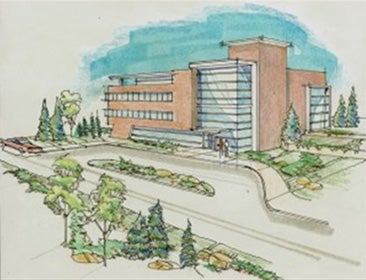 The John E. and Margaret L. Lane Foundation and Margot Lane of Colorado Springs will donate $4 million to UCCS and Peak Vista Community Health Centers to build an academic health sciences building on North Nevada Avenue.
The building, which will integrate UCCS academic programs and primary health care services for aging adults, will be named the Lane Center for Academic Health Sciences in the Lanes' honor.
Construction of the estimated 56,000-square-foot building is scheduled to begin in late summer 2012. It will be on UCCS property on the east side of North Nevada Avenue and north of the university's monument sign at the intersection of North Nevada Avenue and Austin Bluffs Parkway. The site is now a parking lot.
"We are deeply appreciative of Margot Lane's generous support of the university and this community-wide effort to improve health care," Chancellor Pam Shockley-Zalabak said. "An academic health sciences building on North Nevada will improve health care access and integrate it with university faculty and researchers who seek to improve lives."
Plans call for Peak Vista Community Health Centers to partner in the efforts by owning a portion of the building and using it to house a Senior Health Center, which also will be named in honor of the Lane family. A community mainstay since 1971, Peak Vista now operates 19 health centers throughout the Pikes Peak region, including numerous family health centers, two senior health centers, school-based programs and specialized health centers for homeless, women's, pediatrics, after-hours care and developmental disabilities.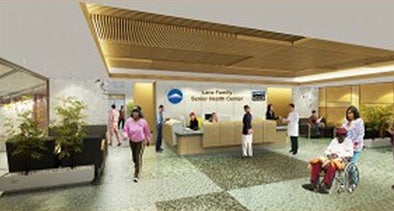 In a joint statement, Pam McManus, president and CEO of Peak Vista Community Health Centers, and BJ Scott, executive director of the Peak Vista Community Health Centers Foundation, said: "Peak Vista is humbled by the generosity of Margot Lane, who has supported several Peak Vista projects over the years. Margot's passion and excitement to be involved in an innovative service model for seniors in our community is an investment that goes beyond the dollars and challenges us to further define a quality long-term solution for our future that is demonstrated through our partnership with UCCS and strategic thinking."
In September, the CU Board of Regents approved the first phase of plans for an academic health sciences building on the east side of North Nevada Avenue and south of the current Four Diamonds Sports Complex. The first phase provides space for UCCS programs such as the CU Aging Center, Gerontology Center and Beth-El College of Nursing and Health Sciences, as well as the university's doctoral program specializing in the psychological needs of seniors. The site was chosen because of its convenient access to the main UCCS campus as well as its central location for community members and patients and its access to I-25. Future phases will include additional buildings.
"Our family loves this community and it is a privilege to be able to give back to Colorado Springs in this significant way," Margot Lane said. "The importance of UCCS and Peak Vista in this community is tremendous. It is our hope that this collaboration will be a model for other universities and nonprofits around the country."