STORY
Department of Defense grant goes to University of Colorado Cancer Center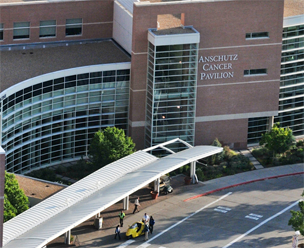 A major Department of Defense grant to researchers Jennifer Richer, PhD, and Anthony Elias, MD, at the University of Colorado Cancer Center aids development of drugs that target androgen receptors as a driver of breast cancer.
In August 2013, patient Linda Griffin failed her second aromatase inhibitor. Three and a half years ago, she had been diagnosed with estrogen-positive (ER+) metastatic breast cancer and with August's news she was running out of hormonal therapies.
"My oncologist had been a resident at the University of Colorado and so when my treatment failed, he said it was time to call Dr. Elias," Griffin says.
Anthony Elias, MD, is breast cancer program director at CU Cancer Center and the clinician side of a clinician-researcher team with Jennifer Richer, PhD, associate professor of pathology and co-director of the CU Cancer Center Tissue Processing and Procurement Core. Together, Richer and Elias have spent a decade laying the groundwork for targeting androgen receptors in breast cancer. Now the team expects this major Department of Defense grant will allow them to place androgen receptors alongside those for estrogen and progesterone as hormonal drivers of breast cancer, and a target for drugs that treat the disease.
"Breast cancers have addictions," says Elias. "Some are addicted to estrogen, some to progesterone, some depend on the growth factor HER2. You use drugs to take away these things the cancer needs and the cancer can't grow."
Unfortunately, when doctors use drugs to take away, for example, estrogen from an ER+ tumor, it can eventually develop a new addiction. And not all cancers are addicted to ER, PR or HER2 – the three common drivers targeted by current tests and treatments – in which case the breast cancer is called "triple negative." In fact, 75 percent of all breast cancers and about 20 percent of triple negative cancers are positive for the androgen receptor. Richer and Elias show that inhibiting androgen receptors in these androgen receptor-positive (AR+) tumors can stop their growth in almost exactly the same way that doctors have used anti-estrogen therapies with ER+ tumors.
"Our preclinical work is extremely promising and we're just now starting to get results from studies in models of breast cancers resistant to current therapies. If this promising work leads to good clinical results, we could offer a new treatments for breast cancer patients who have previously been without further options," Richer says.
Dr. Elias's patient, Linda Griffin, puts it another way: "If this works, it'll make history," she says.
Androgen is not a new target in cancer. Androgens including testosterone have long been implicated as a driver of prostate cancer and so many drugs targeting both the body's production of androgens and cancer cells' ability to use the hormone are already approved, with even more treatments in the drug development pipeline. The current clinical trial uses the especially promising anti-androgen drug, Enzalutamide, which was FDA-approved in August 2012 for use in castration-resistant prostate cancer.
"Normally, the way these hormones work is by attaching to receptors in the cell cytoplasm, at which point the receptor draws itself and the hormone molecule inside the nucleus where it regulates many genes," Richer says. The genes turned on and off by ER, PR, HER2 or, now, androgen tell breast cancer cells to survive and reproduce beyond control. Enzalutamide makes androgen receptors unable to go into a cell's nucleus – and so the message of growth never gets delivered.
"Interestingly, it seems that estrogen-positive breast cancers are susceptible to the same drug," Richer says, explaining that something about the way the signal of estrogen is transmitted inside a cell's nucleus requires the presence of androgen receptors in the nucleus, as well. Without androgen receptors in the nucleus, estrogen receptors may not be able to drive cancer, either.
And so anti-androgen therapies have many potential uses in the treatment of breast cancer, including the following:
as a first-line drug against androgen receptor-positive cancers with or without additional hormonal drivers
as a second-line drug against tumors that have mutated away from estrogen or progesterone or HER2 dependence by adopting androgen-dependence
in combination with drugs that target estrogen receptors and HER2 to prevent cancer from mutating toward androgen-dependence in the first place
perhaps in addition to or instead of existing treatments for ER+ breast cancers, which seem susceptible to this anti-androgen therapy.
Blocking androgen receptors may even stop the growth of some triple negative breast cancers – these aggressive cancers for which chemotherapy, radiation, surgery and hope have long been the only treatments.
"These uses and combinations are exactly what this grant will allow us to study," Elias says. "It is very difficult to get grants of this size in this climate and so we're absolutely honored to have the opportunity to push forward aggressively with our work. We'll be able to go back to the lab to ensure that in future clinical trials, everyone who could benefit from the drug, gets it."
In addition to the CU Cancer Center, this first clinical trial is being offered at Memorial Sloan-Kettering Cancer Center and the Karmanos Cancer Institute. Results should be available in fall 2014, and ongoing work is likely to lead to new clinical trials as well.
For now, patient Linda Griffin will take things as they come. "I've learned not to be optimistic or pessimistic," she says. "My goal is to feel good and lead a normal life. Three weeks into this trial, I feel fabulous. That's a result to me."