STORY
CU working to coordinate its constituent relationship management
Technology and Innovation Program leads assessment of communications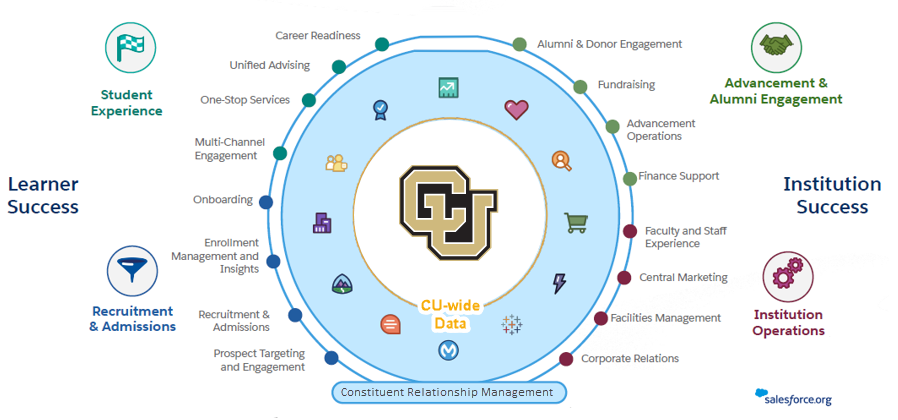 CU's Transformation and Innovation Program continues to make progress on many technology fronts, including work by the Program Management Office team to establish program-level processes and standards that will be used on each project in the TIP portfolio.
Consistent project level procedures will aid in coordination and management across the program as the team and stakeholders move forward; the projects relate to and inform one another.
A current focus is constituent relationship management, or CRM. In higher education, CRM systems use technology to automate, streamline and manage communications and touchpoints with prospective students, current students, alumni, donors, and others who interact with the institution.
The rich data captured in the system helps institutions to drive more efficient and effective service: They provide real-time numbers, data, graphs and trends at the macro level, as well as the ability to customize messages for personalized student engagements, ensure the channels used meet the needs of the constituent, and automate certain types of communications such as follow-ups.
"The real promise of CRM is in providing personalized engagement for all of our constituents – using everything we know about them and their needs – to provide targeted services to help them on their journey to success," said Harper Johnson, Associate Vice President of Transformation and Innovation.
The Technology Assessment completed in spring 2020 showed that while CU has invested in CRM across the campuses, the university does not have a coordinated CRM strategy. This hinders data sharing across CU that would allow the university to more fully understand and serve constituents; the cost of the current CRM architecture also is higher because of duplicate spend. CU's current CRM landscape consists of 17 separate CRM instances on nine different platforms.
While CU has made efforts to centralize CRM in the past, the new systemwide CRM project will build beyond what's currently in place at the four campuses and system administration offices.
The main goal for the project is to develop a systemwide CRM strategy and supporting technical architecture that includes Recruitment and Admissions, Student Experience, and Advancement and Alumni Engagement. It will entail sunsetting legacy CRM instances to realize cost savings.
Expected benefits of the CU-wide CRM Project include improving student success, standardization of student data, more effective information technology and lower costs.
Recruitment and Admissions is the first area of focus for the project team.
Salesforce, a CRM platform already widely used across CU, is the industry leader, and will be leveraged for the broader CRM platform. A timeline for moving CRM functions from other tools to Salesforce is being developed.
The project team is working with Salesforce to assess current functionality and business processes in place with the existing CRM, along with the technical architecture needed for the most viable, efficient way to leverage and build upon what's already in place. More than 50 people from across CU who work in CRM are taking part in the activity.
For more information on CU's Transformation and Innovation Program, please see the TIP website, which also invites stakeholders to share their input.
TIP is committed to sharing regular updates and information as the work progresses.