STORY
CU South Denver seeking community input via survey, open forum
Faculty, staff among stakeholders invited to take part in planning process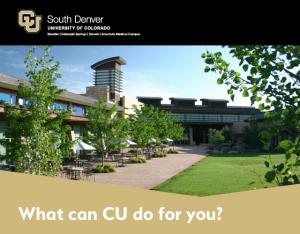 The University of Colorado South Denver is seeking input from the community and its stakeholders – including CU faculty and staff across the system – with a survey that will inform a new strategic planning process.
The ambitious process will help leadership to set goals and define a vision to bring innovative education models to the South Denver community.
The survey is available now and will be open through Monday.
"As valued stakeholders of our local community, your contribution to the future of CU South Denver is greatly needed and appreciated," said Luella Chavez D'Angelo, vice chancellor for enterprise development for CU South Denver. "The University of Colorado plays a profound role in the lives of individuals and communities throughout Colorado, across the country and around the world. CU South Denver, the newest addition to the CU enterprise, is a place for lifelong learners of all ages that brings together the knowledge from all four campuses – CU Anschutz Medical Campus, CU Boulder, CU Colorado Springs, CU Denver."
The survey seeks to gather information from local community members to inform future programming and offerings from CU South Denver and ensure community needs are being met.
CU South Denver also will host an open forum where members of the community may provide input and feedback in person. The event is set for 6:30 p.m. May 1 at CU South Denver in the Great Hall.
"This is an opportunity to share thoughts and opinions in person crucial to the success of our strategic plan," D'Angelo said. "We truly want to know what CU can do for you."