STORY
CU South Denver celebrates annexation into Lone Tree
Leaders from university, city gather for special reception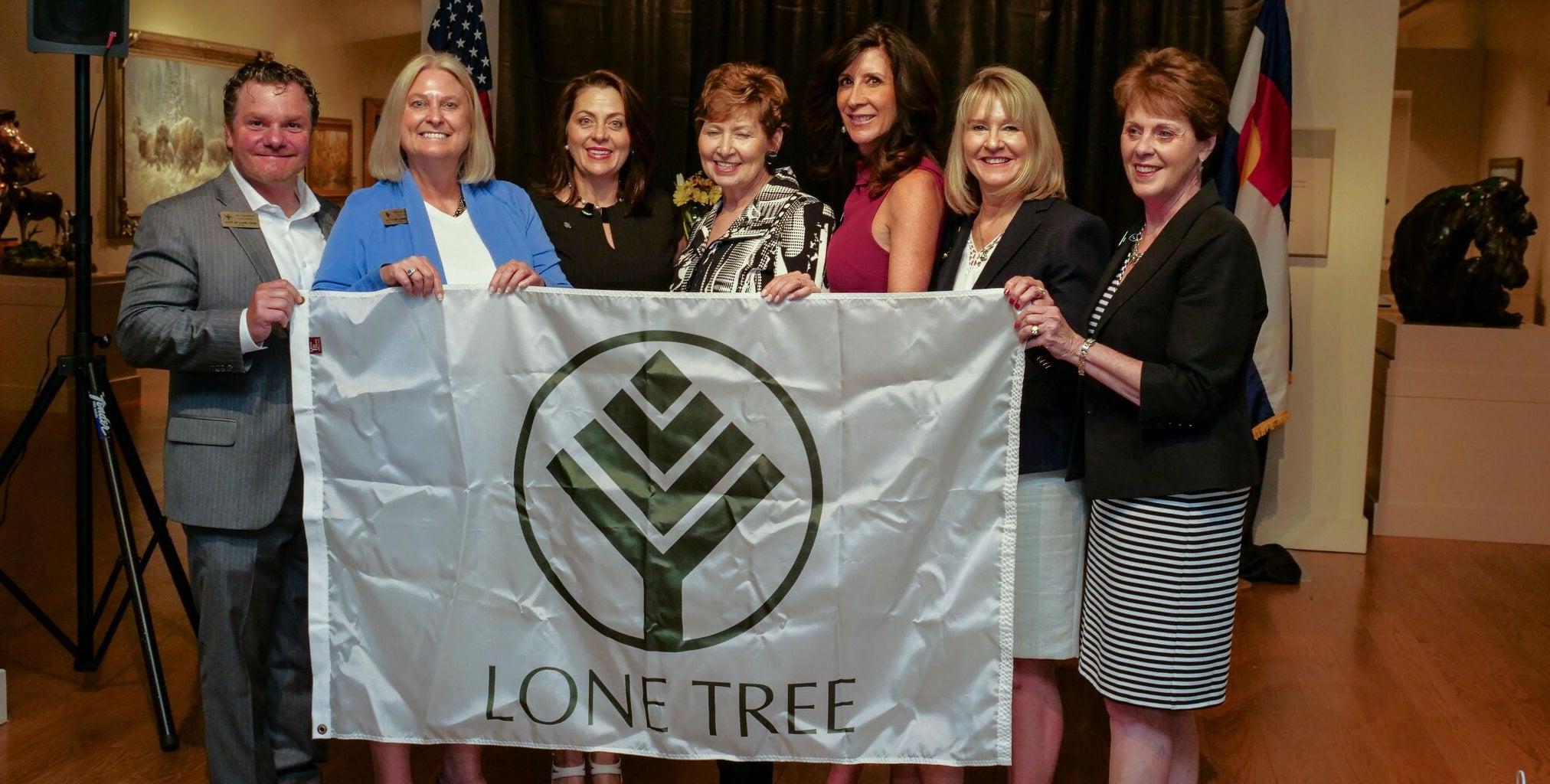 Casey Cass/University of Colorado
The University of Colorado South Denver (CU South Denver) on June 6 welcomed Lone Tree city officials and representatives from the University of Colorado enterprise to celebrate the recent annexation of the location into the city of Lone Tree.
Special guests at the reception in the fine arts gallery at CU South Denver included Lone Tree Mayor Jackie Millet and members of the Lone Tree City Council, City of Lone Tree Economic Development Director Jeff Holwell, CU Regent Sue Sharkey, CU Denver Chancellor Dorothy Horrell and CU South Denver Vice Chancellor Luella Chavez D'Angelo.
While the annexation took place earlier this year, the reception allowed for CU leadership and city officials to share with community members and CU staff the vision for the partnership between the higher education institution and the city.
"We are so excited about the future opportunities for collaboration with CU," Millet said. "This relationship with a renowned higher education institution is beyond what we could have dreamed of and brings us one step closer to our goal of becoming a smart city for the 21st century and creating a model for other smart cities to follow. This partnership also elevates both the university and our city by allowing us to offer educational opportunities, cultural assets and high-quality facilities to our citizens in their own backyard."
Working closely with a new Advisory Board consisting of south Denver community and business leaders, CU South Denver has developed market-responsive educational and cultural programming. CU South Denver is the only location within the CU enterprise to offer expertise from all four CU campuses via traditional and non-traditional applied learning experiences, including undergraduate and graduate degrees, other professional development certifications and classes, as well as educational and cultural programs for all ages and levels.
"As a leading educational hub serving south Denver communities, CU South Denver is reimagining the way the community accesses and connects through science, technology, engineering, arts and math, all infused with CU expertise," Chavez D'Angelo said. "We are very excited to be a part of Lone Tree and work closely with Mayor Millet and her team."
As the south Denver community continues to expand with new residential and commercial developments underway, CU South Denver will continue to work with the city of Lone Tree and its residents to develop educational programming that meets the needs of the community.
"We are honored that CU South Denver's new address is the city of Lone Tree," Horrell said. "As a gateway into the University of Colorado, CU South Denver serves as an educational partner for all those living or working in the south metro Denver area. Here, students of all ages, from preschoolers through retirees, come together to learn in a variety of ways: from attending a museum exhibit or a 3-D educational film to enrolling in summer camp or university classes offered by one of our four campuses. CU South Denver is uniquely positioned to meet workforce and community needs in this thriving part of our state."