STORY
CU to search for leader for online initiative
Office of Digital Education provides service support to campuses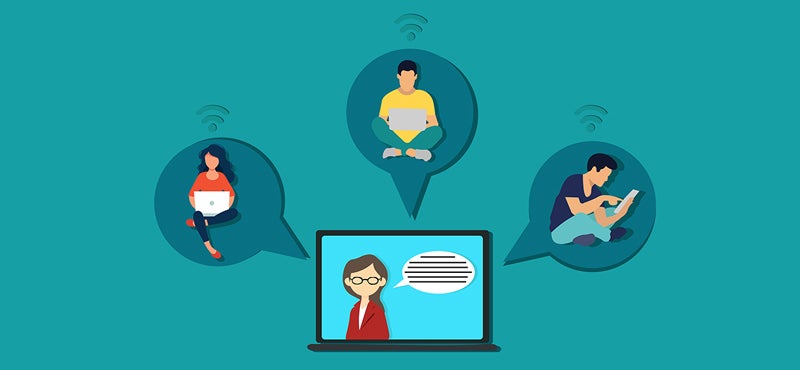 CU will take the next steps on its journey to expand its online education presence and offerings by searching for a permanent leader for the Office of Digital Education (ODE), which provides support services to campus online programs.
CU President Mark Kennedy recently shared the news with ODE staff and others involved in the initiative. He met with the staff and followed up with an email that noted, "We will begin a search for the permanent leader of the Office of Digital Education, one to help focus its role as a service center for the campuses. The academic focus will clearly remain anchored at the campuses, with ODE supporting those efforts by providing services in marketing, student success and more."
Kennedy said the four campus chancellors support the direction.
CU Boulder Interim Chief Operating Officer Patrick O'Rourke will chair the search, which will begin soon. The effort had been led on an interim basis by Scot Chadwick, who served as interim associate vice president for online learning, and Sheana Bull, who served as interim senior faculty fellow for online learning. Bull is returning to her faculty position in the Colorado School of Public Health and Chadwick resigned after completing his assignment.
Kennedy lauded their efforts, saying Chadwick and Bull have "done exceptional work along the key stretches of our journey." Kennedy noted that they were particularly effective in building and developing the ODE team into a high-performing group over the past three years, expanding its charter from serving the online needs of the Denver and Anschutz campuses to its current role as a partner providing services supporting academic units on all four campuses.
As the search proceeds, day-to-day operations continue, as does support for existing programs. CFO Todd Saliman will provide high-level administrative oversight and consultant Gregory Finkelstein of the firm Talent Development will continue his work designing the optimal structure for ODE, in addition to providing oversight of the day-to-day operations.
ODE will continue to work closely with the campuses on establishing online academic programs for the effort and crafting master services agreements that will detail roles, responsibilities and financial details of the relationship between campus units and ODE.
"We continue to home in on a structure that will allow us to ensure that our university has a strong online presence that serves all learners," Kennedy said. "The pandemic's effects accentuate and accelerate the need for us to have a robust online presence. We are making good progress."