STORY
CU salutes Benson Society members for their transformational giving
Annual celebration went virtual for 2021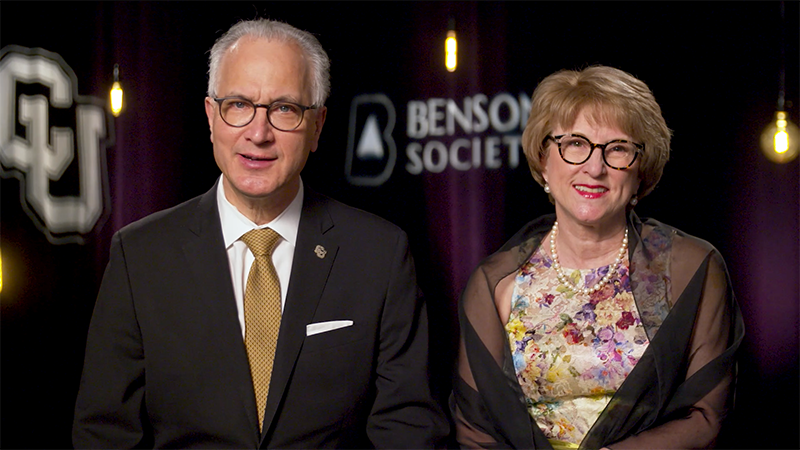 The challenges of the last year haven't dampened CU donors' vision and generosity for the university. They continued to invest their gifts in their passions across CU's four campuses – including supporting student scholarships, groundbreaking research and life-saving health care.
CU on April 29 celebrated that dedication during the Benson Society Gala, a virtual event with CU leadership and notable alumni. The annual gathering thanks members of the Benson Society, the university's top donor giving society.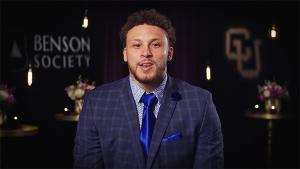 Alumnus and former CU Buffs star running back Phillip Lindsay served as the evening's emcee. He talked about his story of success as a CU graduate and student-athlete.
"You have made that journey possible," Lindsay told donors. "And not just my journey. But for countless others – students, faculty, researchers, health care workers, patients and more. This is all possible because of your generosity that changes lives. I know because you changed mine."
CU President Mark Kennedy and first lady Debbie Kennedy also thanked guests for their transformational giving across CU.
"Together, you ensure that our students are successful, and that we remain steadfastly focused on strengthening diversity, equity and inclusion across our campuses," President Kennedy told members. "You guarantee that CU researchers possess the means to unearth discovery, and that we'll continue to make breakthroughs in health care and medicine."
Benson Society members have given or committed at least $1 million in gifts to support CU. Established in 2017, it's named for former CU President Bruce Benson and first lady Marcy Benson for prioritizing philanthropy at CU. Last year, 25 donors joined the Benson Society, bringing its membership to nearly 400.
The gala also featured FACE Vocal Band, an a cappella group whose founding members met at CU Boulder, and four short videos that show giving's impact on each of CU's campuses.
Tenille Townes, the Academy of Country Music's 2019 New Female Artist of the Year, performed hits from her latest album to conclude the evening.
Learn more about the Benson Society at giving.cu.edu/benson-society.