STORY
CU's open education champions attract funding, awards
Efforts across system could lead to significant savings for students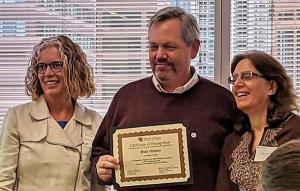 The University of Colorado is one of 23 institutions of higher education to receive grant funding from the Colorado Department of Higher Education (CDHE) for open education projects. This year, $1 million was awarded to 35 different grantees, among them:
The University of Colorado Denver, which received $35,000 for ThinqStudio to establish an open education infrastructure for faculty and students to co-create course materials; and
The University of Colorado system, which received $76,000 to further expand the successful Open CU OER Initiative on all four CU campuses.
Past funding for the Open CU initiative has allowed campuses to provide professional development opportunities and stipends for faculty interested in reviewing, adopting or creating new open educational resources (OER) for students. These efforts have the potential for significant cost savings for students: UCCS, for instance, has reported $100,000 in textbook savings after just one semester of the Open CU project.
CU played a leading role in Colorado's Open Education Week, March 2-6, with a webinar by Rajiv Jhangiani (Beyond Free: Supporting Social Justice through Open Educational Practices), who gave the popular COLTT (Colorado Learning and Teaching with Technology conference) keynote in 2018, and presentations by OER vendors Odigia and Cogbooks. The full list of Colorado Open Ed Week events can be found on the CDHE OER page.
Of special note is CU's inaugural OER Champion Awards Luncheon, which was March 4 at the CU system offices. Four campus faculty awardees, multiple nominees and the Open CU team were honored at the event, with certificates and digital badges awarded by Michael Lightner, vice president of academic affairs, and the Office of Digital Education and Engagement (ODEE). The four faculty OER Champions also received a $500 stipend for their OER work:
Julia Dixon (Anschutz Medical Campus)
Brooke Huibregtse (Boulder)
Brad Hinson (Denver)
Linda Button (UCCS)
Faculty and staff interested in exploring OER can contact the CU system ODEE Office (odee@cu.edu) or their campus OER team (UCCS: Angie Dodson, adodson2@uccs.edu; CU Denver: Ellen Metter, ellen.metter@ucdenver.edu; CU Boulder: Leslie Reynolds, leslie.reynolds@colorado.edu; CU Anschutz Medical Campus: Ben Harnke, ben.harnke@cuanschutz.edu). The Colorado OER Conference, June 4-5, and the COLTT conference, Aug. 5-6, are upcoming opportunities to learn more about OER.