STORY
CU's online offerings earn high marks from U.S. News
Programs at three campuses land spots on 2016 lists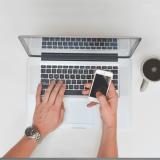 University of Colorado offerings landed several spots in U.S. News and World Report's 2016 Best Online Program Rankings, released earlier this week.
Programs at three CU campuses earned rankings, which the magazine bases on such factors as student engagement, faculty credentials and training, student services, peer reputation and admission selectivity. Acknowledged were CU programs in MBA, information technology, criminal justice, education, engineering and nursing.
CU-Boulder received accolades for engineering (58) and information technology (rank not published).
UCCS programs in business (41), education (48), engineering (29) and nursing (13) were ranked among the nation's best. Read more in Communique.
CU Denver notched spots for criminal justice (12) and education (36). Read more in CU Denver Today.
For details on methodologies and a searchable list of university programs, visit U.S. News.