STORY
CU names Technology Transfer leader
Tallman to oversee university's intellectual property efforts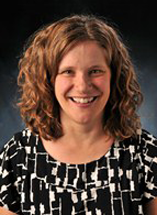 The University of Colorado has named Kathryn (Kate) Tallman associate vice president for technology transfer for the institution's four-campus system.
Tallman, who has served in the position as interim since July 2013, will lead CU's Office of Technology Transfer, which manages and commercializes intellectual property resulting from research at CU. The operation has seen an increase recently in licensing agreements that enable university technologies to be developed by commercial partners. It also has seen consistency in the number of startup companies that emerge from university research.
"Kate Tallman has done a superb job directing our Technology Transfer operation and I am confident she will continue to lead TTO as its permanent leader," said CU President Bruce D. Benson. "Technology transfer not only brings the leading-edge work of our faculty to markets and to new companies, but also improves lives through discovery and innovation."
She joined CU Technology Transfer in 2002 and previously served as senior director for technology transfer at CU's Boulder and Colorado Springs campuses. Before CU, she was director of marketing and co-founder of Roving Planet, a venture-backed Colorado software company specializing in wireless LAN technology.
Since Tallman took on the interim role, nine companies emerged from university research in FY 2014, with an additional three in the current fiscal year, which began July 1. Startup companies are a key measure of technology transfer performance, with CU startups achieving a higher five-year survival rate than small businesses overall in Colorado or nationally.
Startup companies bridge the gap between university research and commercial products and also contribute to the local economy by creating jobs and attracting venture capital.
For example, LineRate Systems was founded in 2008 by CU-Boulder researchers to commercialize their breakthrough in software-defined networking. LineRate received early-stage funding through CU Technology Transfer's proof of concept investment program. The company was sold to F5 Networks in 2013 for $125 million. Louisville-based GlobeImmune, a CU startup that emerged from research into a vaccine platform with potential applications for cancer and infectious diseases, recently closed its IPO, raising $17.2 million.
"I intend to continue to support efforts across CU campuses to expand commercialization activities," Tallman said. "Faculty engagement in commercialization builds relationships and industry knowledge. Our team's intellectual property management and licensing services help faculty achieve commercial goals."