STORY
CU honored for outreach in southern Colorado
Pueblo-based Action22 recognizes university's engagement in region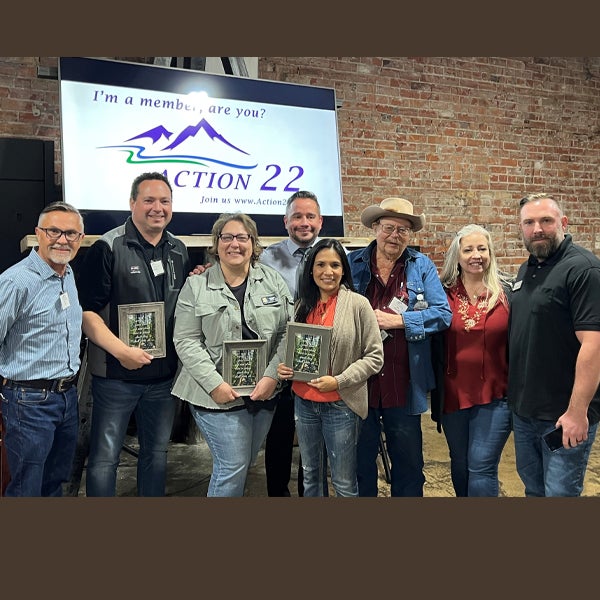 The University of Colorado recently was honored with a Dentros Award from Action22, recognizing CU's outreach and engagement work with communities across southern Colorado.
​Action22 is a nonpartisan regional advocacy group based in Pueblo, where the group's annual meeting and awards presentation took place Oct. 21-22. The membership-driven organization serves as a voice and leader for action on public policy for 22 southern Colorado counties. Action22's membership includes business leaders, elected officials, business organizations, counties, municipalities and nonprofit organizations from across the state.
Tony Salazar, assistant vice president of engagement at the CU system, began cultivating a relationship with Action22 in nearly 2020, and CU joined the organization the next year to support the university's advocacy work for residents of that part of the state and to help strengthen CU's partnerships in the region.
"The Action22 relationship has opened doors for our outreach and engagement work in Pueblo, southeastern Colorado and the San Luis Valley," Salazar said. "These are all places we have visited over the past two summers with President Todd Saliman, members of the Board of Regents and representatives of our campuses."
Sara Blackhurst, Action22 executive director, served on the most recent CU presidential search committee.
"It is a great privilege to recognize the efforts of the entire CU outreach and engagement program, including CU leadership," Blackhurst said. "It is nearly impossible to overstate the importance and value those efforts offer to the people we serve in southern Colorado. Tony exemplifies what servant leadership is, not only for our rural communities, but our Latino communities as well."
The university was among a small group of award recipients, which also included CU's partners at the Pueblo Hispanic Education Foundation, who have helped share the story of the four CU campuses and the opportunities available there to Pueblo County students.