STORY
CU to go live with new student information system features in August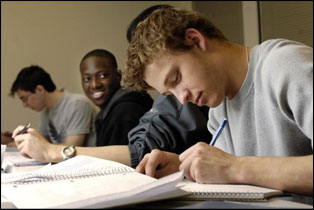 The MetamorphoSIS project, which will replace the university's outdated student information system, is preparing to go live this summer with two new features. [Photo by Glenn Asakawa]
The MetamorphoSIS Project, the University of Colorado's ambitious bid to replace its outdated 20-year-old student information system, is preparing to go live this summer with two new features, the first of several key launches over the next year and a half.
Nearly two years in the making, the new $50 million system will launch Aug. 3 with admissions and recruitment Web portals for students applying to all three CU campuses. The university plans to roll out the new system in stages through the end of 2010. Project funding will come mostly from initiative funding out of the CU president's office. CU is implementing the new Oracle-based system because the old one is no longer supported by current vendor technology, and to offer employees and students a more powerful, feature-rich computer database, according to administrators.
"The new system will provide improved functionality, access to information, and improvements to the services we currently provide to our students," said LeeAnn Baronett, the project's director of communications.
Among other features, the new student information system will enable university administrators to tap into more sophisticated reporting and analysis tools; improve data quality and timeliness; develop the information technology infrastructure necessary for high availability and reliability; establish processes and structures for cost-effective support; and incorporate best practices from project implementation into ongoing support and upgrades.
By the end of next year, system administrators will have rolled out new processing features covering several areas, including curriculum in September and financial aid, scholarships, student financials and enrollment deposits in November. Next year, rollouts will include financial aid processing in January; registration, financial aid award notices, process transfer credits for new students in degree audit, and transfer articulation system in February or March; student financials in July; financial aid disbursement in August; and transcripts and end-of-term processing between September and December.
University Information Systems began developing the new student information system in October 2007. According to Baronett, the portals are part of a larger, critical mission for the university to implement a system that gives CU a single record for all students with the flexibility to accommodate differences in student populations, campus policies and processes.
"Campus Solutions," the system's primary component, will encompass functions related to student administration, faculty workload, and course management. It will also cover admissions and recruiting, student records, student financials and financial aid. Other components will help faculty and staff manage electronic documents, data and degree auditing, and will feature software for portals, master data management and Web-based training, Baronett said.
"Each component is connected to the others through interfaces, so that information is shared throughout the system," she said.
Baronett said the new Web portals that will go live on Aug. 3 will have a distinct visual presence, but share a wide range of features. A "dynamic presentation" feature will provide prospective students with personalized information and choices based on their status in the admissions process. Those who have filled out an admissions application will see different information and options than those who have not.
"Web visitors will be able to access a list of the next steps they need to complete in the application process. The software will also tailor information to match their academic majors and extracurricular interests," she said.
The portals will also include housing information; the ability to register for a campus visit; a cost estimator; frequently asked questions; and a search field to look up courses. Other planned enhancements include selective service information; deposit confirmations; requests to defer or cancel admissions; the ability to communicate with an admissions counselor; and information on how to participate in student orientation sessions.
In conjunction with the new student information system, the university will implement a new degree auditing/reporting system, or DARS, to track students' academic progress toward graduation.
Additional Info: