STORY
CU Foundation establishes Benson Society to honor top donors
President Bruce and Marcy Benson 'honored and humbled by this recognition'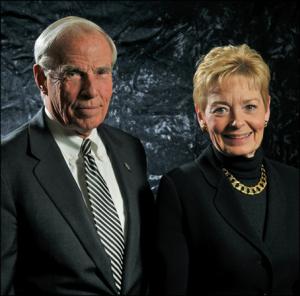 The University of Colorado Foundation on Monday announced the creation of The Benson Society, which recognizes individuals and private/family foundations that donate $1 million or more to the university. The Foundation's board of directors unanimously approved the concept.
"We are proud to have a society to recognize the donors who make significant investments in the university, which in turn make a substantial difference in our state and society. The return on their investment is tremendous," said Margaret Bathgate, chair of the CU Foundation board of directors. "We are also thrilled that Marcy and Bruce Benson agreed to let us use their name. Their leadership and personal philanthropy at CU make them natural namesakes."
Bruce Benson has served as CU president since March 2008. He is the longest-serving CU president in 65 years. He and his wife, Marcy, have chaired CU's two most recent comprehensive fundraising campaigns, Creating Futures (which exceeded its $1.5 billion goal in 2013) and Beyond Boundaries (which exceeded its $1 billion goal in 2003). Additionally, Bruce served on the steering committee for CU's first comprehensive fundraising campaign, a $272 million effort in the late 1980s chaired by Clancy Herbst.
The university has set fundraising records in each year of Benson's presidency, including $386.3 million in 2016-17. Bruce Benson is an alumnus of CU, having earned his geology degree in 1964.
"We are honored and humbled by this recognition," Bruce Benson said. "CU has played a critical role in our lives, but more important, in the life of Colorado and the nation."
CU estimates that about 350 individuals and private/family foundations qualify for membership.
"We're happy to be able to recognize those whose investments in CU have helped shape the university we are, and who will continue to sustain us for decades to come," said CU Foundation President Jack Finlaw. "This is an enduring legacy of the importance of philanthropy, as well as recognition of those people and foundations that add significant value to CU's students, faculty and staff and to Colorado and beyond."
The Benson Society's signature event will be an annual awards and induction ceremony held each spring.