STORY
CU Faculty Voices: The persistence of pay inequity
The Equal Pay for Equal Work Act must lead to real change

Editor's note: This is one in a series of commentaries by CU faculty, presented by the Faculty Council Communications Committee and CU Connections. Learn more here and submit your own column pitch.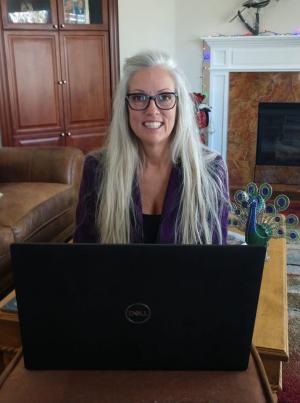 By Callie Rennison
Equal pay for equal work seems like a topic that would garner little debate. Surprisingly, the notion of equal pay for equal work has a long history of debate and defeat, and has proved to be difficult to achieve in practice.
Consider that decades ago, newspaper listings for employment included separate sections for men and women seeking work. It was not uncommon for each section to post the identical job, but offer very different pay in the women's section. Most women you know can also share personal stories about how they have performed identical work as a male counterpart only to be paid less.
I have many stories about how my being a woman has meant being treated and paid differently at work. One story stands out from the mid-1980s – not in terms of pay, though I probably was being paid less – but in terms of work conditions. I worked my way through college as a draftsman. One job was at a major engineering firm in the Houston area, and our client was a major Saudi Arabian company. I was in a unit with many men and one other woman, all working in a common area with rows of drafting tables. However, when the client came to the office, the other woman and I were hustled to a different small room where we worked. The client did not want women working on their projects so we were hidden from them. After the client left, we were allowed out of our room.
This profound unfairness of pay inequity and the attempts to rectify it clearly predate me and my experiences. The first attempt to address pay inequity was in 1944, when Winifred Stanley, a New York Republican, introduced House Resolution 5056 as an amendment of the National Labor Relations Act. The resolution proposed to make wage discrimination illegal for comparable work on the basis of an employee's sex. The bill was referred to the Committee on Labor where heated debate ensued over the meaning of "comparable work." This debate proved devastating for the amendment and the bill languished in committee.
In the following years, other equal pay bills were introduced in Congress. All failed to become law, however things changed in the 1960s. In 1961, Esther Peterson, the leader of the Women's Bureau in the Department of Labor, began pushing for an equal pay law. She urged President Kennedy to establish the Presidential Commission on the Status of Women, which was chaired by Eleanor Roosevelt. She served as chair until her death in 1962, at which time Esther Peterson, who had served as the executive vice chair of the commission, took on leadership duties.
The commission gathered data and advocated to bring an Equal Pay Act to Congress. The commission also tackled the early thorny issue of what is "comparable work," concluding that the language of "equal work" was more acceptable. The commission issued a 1963 report, "American Women," which served as the blueprint for policies and programs related to women in the workforce. Most notably, the work of the Presidential Commission on the Status of Women resulted in the introduction and subsequent passage by Congress of the Equal Pay Act of 1963. The Equal Pay Act made pay discrimination based on sex illegal, and requires women and men in the same workplace to be paid equally for substantially equal work.
The Equal Pay Act is almost 60 years old – older than I am – so one might assume that my contemporaries and I have enjoyed equal pay for equal work our entire lives. Sadly, that is wrong, even in higher education.
Evidence demonstrates that pay inequality in higher education is alive and well regardless of decades of federal prohibition, and concerted calls against it. I spent several years directing our Office of Equity on the CU Denver and Anschutz Medical Campuses. This is an office where students, staff and faculty can report pay discrimination (among other things) based on many protected categories.
While I can't share about reports that came to the office for obvious confidentiality reasons, I can say that pay discrimination reports occur here and at other institutions of higher education. Consider just a few recent notable pay equity lawsuits against institutions of higher education, and major settlements stemming from several of them.
In 2020, Princeton paid about $1.2 million to settle with women in full faculty roles. The case involved the review of 2012-2014 wages where the U.S. Department of Labor found pay disparities between men and women faculty. In addition to the $1.2 million, Princeton has allocated more than a quarter-million dollars to close additional gender-based pay disparities.
During the same year, Northern Michigan University settled with four women professors after they sued, claiming pay discrimination and retaliation for attempts to rectify it. The women claimed that they were teaching the same classes as their male colleagues, yet were paid less for doing identical work. The women also claimed they were retaliated against after complaining and trying to resolve the disparity. That settlement cost Northern Michigan University almost $1.5 million.
Also in 2020, five women professors filed a lawsuit in New Jersey alleging Rutgers University had been paying them less than comparable men professors. The state had recently implemented a state-level, equal-pay law, which the women used. While this lawsuit remains unsettled, Rutgers has dealt with allegations of pay discrimination in the past. Most notably, in the 1960s, the late Justice Ruth Bader Ginsburg, who at the time was a Rutgers law professor, led a group of women employees who filed a complaint for equal pay. The women were successful in their complaint and were given significant pay increases.
2019 also included several lawsuits and settlements. The University of Arizona settled with three former women deans, paying out $190,000 plus their litigation costs. The same year, a lawsuit filed by a woman professor at the University of Arizona was settled for $100,000. The associate professor who filed the lawsuit alleged the university paid her less than male counterparts although she had positive annual reviews and engaged in equal work. She also claimed she was denied a promotion to full professor, unlike her colleagues.
Closer to home, in 2018 the University of Denver agreed to pay $2.7 million to settle with the EEOC regarding a case filed by seven women law professors in an equal-pay case. This settlement includes back pay and damages to the law professors affected, and includes an agreement to increase the women's salaries in the future.
And in the same year, the University of Cincinnati settled mid-trial with a former geography professor for $212,500 in back pay, benefits and damages in 2018. She was paid less than two comparable men in her department although they performed equal work.
And ongoing is the lawsuit filed against the University of Oregon by renowned institutional betrayal scholar Jennifer Freyd. She claims to have been paid less than comparable male faculty members although they performed equal work. Freyd's case continues and is now complicated by the university's requirement that she drop her case if she wants to participate in an early retirement incentive offered by the university.
In Colorado, the Equal Pay for Equal Work Act was signed by Gov. Polis in May 2019 and took effect Jan. 1, 2021. It applies to all public and private employers in Colorado and extends protections beyond those of the federal Equal Pay Act of 1963. The Equal Pay for Equal Work Act is designed to implement measures preventing pay disparities based on one's sex (including gender identity) alone or in combination with another protected status for the performance of substantially similar work. The law defines compensation as including hourly wages, salaries and all other compensation. Colorado legislators noted it is in response to the persistent wage gap that the federal Equal Pay Act was designed to eliminate. In addition, the University of Denver lawsuit described earlier prompted attention to this issue.
While other states have implemented similar equal pay acts, Colorado's Equal Pay for Equal Work Act has significant teeth compared to the others. For example, one outcome of the act is that prospective employers cannot seek an applicant's salary history to determine the salary in a current offer. Rather, the employer must consider the education and experience of the candidate as well as current internal employees to determine an equitable salary. What this means practically is that it is best to keep your current salary information to yourself if you are applying for a job. I've seen situations where an applicant freely offered their current salary and it negatively impacted the offer they received.
Another outcome of Colorado's law is that the employer is now required to post a minimum salary or salary range for posted positions. This is helpful to applicants, who no longer waste time applying for unsuitable positions. And unscrupulous employers cannot lowball applicants once they apply.
The new Colorado act prohibits retaliation when an employee invokes the Equal Pay for Equal Work Act for herself or others. If one feels litigation is their only avenue, one can sue their employer for up to three years of back pay for pay disparities (unless the employers can show the disparity was made in good faith). Individuals can also sue for their attorney's fees, reinstatement, promotion, and pay increases. While I've described a basic overview of the new Colorado act, keep in mind there are circumstances where pay differences can exist, so it's best to consult an expert if you have concerns.
So, what happens if you feel there is a pay disparity? First, you may want to bring your concerns up to management to be addressed. Allegations of pay discrimination should be reported in accordance with relevant university policy.
The CU system is currently developing procedures to address exactly those types of concerns, working hard to address pay inequity issues including engaging in a pay equity audit. The system began this work last fall with the help of an independent consulting agency with the goal of complying with existing federal law and the new Colorado Act. Compensation experts continue to work through the outcomes of the consulting reports to identify where pay discrepancies exist, and to correct them. Ultimately, an outcome of this work should be the development of a stronger compensation philosophy, improved practices and greater transparency to ensure the university is in alignment with the new Equal Pay for Equal Work Act.
With this newest act, my hope is that 60 years from now, some woman doesn't find herself writing about how the Equal Pay for Equal Work Act failed to make real change. Pay inequity has been the norm for far too long with detrimental effects to many. This must change.
Callie Rennison, Ph.D., is a professor in the School of Public Affairs at CU Denver, where her research focuses on sexual and gender-based violence, as well as violence perpetrated against college students, women and marginalized groups. She also is a member of the CU Board of Regents.