STORY
CU expands to south metro Denver
CU Denver | Anschutz campuses lead initial effort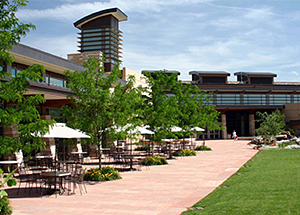 The University of Colorado and The Wildlife Experience, the largest cultural institution in Douglas County, will collaborate to allow CU to begin offering classes in south metro Denver in fall 2014. CU's Denver and Anschutz campuses will lead the initial effort, which is expected to offer courses and certificates in business, education, engineering, nursing and other health areas. Programs from CU's Boulder and Colorado Springs campuses are expected to join the effort in the future.
CU will renovate a gallery area on the second floor of The Wildlife Experience to create 11,000 square feet of classroom and administrative space.
CU identified the need for offerings after conducting a market study of the south metro Denver area and interviewing leaders from the area's major employers and professional organizations. The south metro area, which includes one-third of the population of metro Denver, is home to a variety of engineering, finance and health care-related companies.
"The University of Colorado is committed to providing undergraduate, graduate and professional programs that align with Colorado's evolving demographics and students' needs," said University of Colorado Denver | Anschutz Medical Campus Chancellor Don Elliman. "The space provided by The Wildlife Experience in south metro Denver helps us to offer educational opportunities that are clearly desired by students and employers in the area."
The Wildlife Experience was founded in 2002 as a wildlife art and natural history museum designed to serve as a cultural center and community asset for south metro Denver. Formalizing an educational collaboration with CU strengthens The Wildlife Experience's commitment to its community. The 151,000-square-foot facility hosts rotating exhibits in fine art, natural history and interactive science each year.
The first floor of The Wildlife Experience building will remain open to the public, continuing to operate as a wildlife art and natural history museum with opportunities for meeting and convention facility rental. In addition to the classroom space, CU will have access to the building's expansive public spaces, including the theater and the ballroom.
"Our long term vision for The Wildlife Experience is to continue to serve south metro Denver by expanding our educational outreach and use of our facility to include programs aimed toward adult education," said Dave Liniger, chairman emeritus of The Wildlife Experience and co-founder of RE/MAX International Inc. "The educational collaboration with CU and the initial programs that will be offered by CU Denver | Anschutz help us achieve that vision and enhance our service to our community."
Initial programs offered by CU Denver | Anschutz in the south metro Denver classrooms are expected to include: courses and certificates in general business and entrepreneurship that can be applied toward an MBA degree from the Business School; a certificate program and a course in prevention and response to school violence, and a combined certificate/course in addiction counseling from the School of Education & Human Development; certificates in software engineering, computer forensics and computer science teacher education from the College of Engineering and Applied Science; a Bachelor of Science degree and continuing education courses on emerging topics from the College of Nursing; and a graduate mini-certificate in health systems management with a focus on the healthcare industry from the Colorado School of Public Health.
Class schedules and registration deadlines will be announced in the coming weeks; visit ucdenver.edu/southdenver for more information.