STORY
CU earns industry accolades for marketing, advertising campaign
All Four campaign raises awareness of four-campus system, impact on Colorado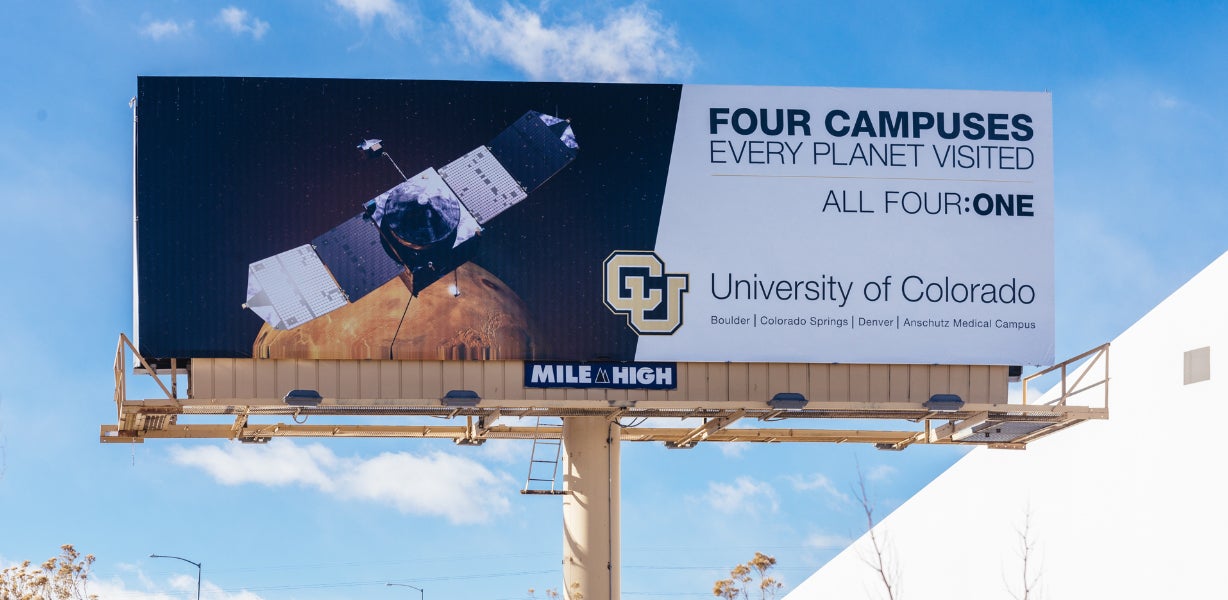 The University of Colorado system recently earned marketing and advertising industry accolades for its successful All Four campaign.
CU's All Four:One campaign, which is aimed at raising awareness of the four distinct CU campuses and their tremendous influence and impact on the state of Colorado, earned a Gold from the Communicator Awards in the integrated campaign category. Competition included other higher-education institutions (the University of California Davis and Suffolk University) as well as corporate entities (FedEx and Cisco, among others).
Campaign elements included TV spots, newspaper and magazine display ads, billboards and social media posts.
Video content produced for the campaign also won awards:
"First Generation," a series of brief documentaries telling the stories of students from the four CU campuses, garnered a Gold from the Telly Awards in the Social Video Series-Education and Discovery category and a Silver from the Communicator Awards in the Video Series category.
The "Lasting Relationships" TV spots, which celebrate the connectivity and shared history between CU and the state, won a Bronze from the Telly Awards in the Regional TV-General-Schools/Colleges/Universities category. Others competing included Oklahoma State University, the University of Central Florida and the University of Idaho.
The award-winning videos and samples from the award-winning campaign are posted at https://www.cu.edu/cu-video.
The Telly Awards honor excellence in local, regional and cable television commercials as well as non-broadcast video and television programming. A leading international program that recognizes big ideas in marketing and communications, the Communicator Awards receive more than 6,000 entries from companies and agencies of all sizes, making it one of the largest awards of its kind in the world.
The University of Colorado enlisted Greenhouse Partners for the All Four:One and All Four:Colorado campaign, launched in 2015. The initiative highlights the connections among the four campuses: CU Boulder, CU Colorado Springs, CU Denver and the CU Anschutz Medical Campus.