STORY
CU Denver students earn regents' quick approval of wellness center
Cost cutting, high voter turnout helped win over previously skeptical board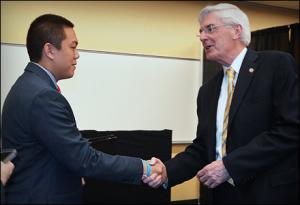 Cathy Beuten/University of Colorado
In an emotional, unexpected vote — followed by cheers and a standing ovation from meeting attendees – the CU Board of Regents on Friday approved a CU Denver student fee increase of up to $12 per credit hour to help fund a new wellness center on the Auraria Campus.
The 7-2 vote (Regents Glen Gallegos, R-Grand Junction, and John Carson, R-Highlands Ranch, voted against the proposal) at the CU Denver Student Commons Building during the board's regular meeting helped advance the project. The campus student body earlier this month voted in favor of the fee by 61.1 percent. More than quadruple the typical number of students – 20.4 percent – voted. The outcome represented a shift by the regents, who had expressed skepticism when the CU Denver Student Government Association (SGA) presented the proposal at the February board meeting, a significant step in the nearly two-year process initiated by students. In the two months between board meetings, SGA representatives met with regents, administration, CU President Bruce Benson and others to determine ways to minimize the cost to students through partnerships and donors, and by compromising on some features. The center's estimated cost was reduced to $42.4 million from $53.8 million; the per-hour fee went to $12 from $16; and the size of the building was trimmed to 85,000 square feet from 105,000 square feet. The approved student fee increase takes effect this fall at $6 per credit and continues until fall 2017, when it rises to $12 per credit hour. In an email sent after the meeting, CU Denver Chancellor Jerry Wartgow noted that the Auraria Board still must approve the plan, and the regents' capital subcommittee must approve a detailed construction plan. During the meeting, Benson said CU is working to secure potential external partners for the facility as a way of further reducing project costs and student fees.
"We have done a tremendous amount with this project since we last met," said Scott Cao, president and chair of the CU Denver SGA, while addressing the board. "We heard your concerns about the student fees and we made some modifications. We tried to find a balance between the student fees with a building that our students so desperately need."
Student Allie Kriese, chair of the center's initiative and project team, said the facility will provide more than 100 student-employment opportunities, increased long-term health, a fitness garden, group fitness rooms and nutritional consultants. Center programs will include student loan and financial responsibility seminars and counseling sessions.
"It's really going to be an amazing building that's available to all of our students," Kriese said. "Our students come here to learn, and while they have chosen CU Denver for our excellent academics, it's really important that we equip them with skills outside academics."
The students' final presentation to the regents is linked here. Though expected to only be an informational update for the board, Friday's report was enough to convince regents that a vote for approval was in order. The enthusiastic endorsement generated big smiles and happy tears from several students who had gathered to witness the meeting. Regents and university leaders offered personal congratulations to student leaders during a meeting break. Regents who voted for the proposal commended the students' vision and the breadth of their investment in the project. Chair Kyle Hybl, R-Colorado Springs, said a new partnership with University of Colorado Health was instrumental in gaining his support. Michael Scialdone, interim strategy officer for UCHealth, said the collaboration has been rapidly evolving.
"In about a two-week time period, I think we have got a pretty solid plan together around how we work collaboratively around expanding access to health to the students as well as faculty," Scialdone said. "It's a commitment we're very excited to make here at CU Denver."
At least two board members had changed their position between the February and April meetings.
"I was a pretty hard 'no' on this thing for a number of reasons," said Stephen Ludwig, D-Denver. "But the work you've done to come back and reduce the cost, and the partnership that you've made, I am pretty much blown away with what you've done and you have my support."
Regent Sue Sharkey, R-Castle Rock, also changed her mind. "Wow. I was a strong 'no' and it wasn't because I didn't believe in what you were doing or believe in the need for this center here on this campus," she said. "To take on a project like this was beyond words for me. You listened to our concerns and you responded; you've made this happen."
Regent Irene Griego, D-Lakewood, commended the vision of the students. "I'm so proud of the way you articulated your plans to us, how you took on the charge and the concerns the Board of Regents had, and you demonstrated to us how to follow through with that," Griego said. "Your accountability has been outstanding."
Said Regent Linda Shoemaker, D-Boulder, "I've been on your team from day one." Referencing state funding challenges, she added, "It's pathetic that students have to build this kind of facility with their own fees."
In voting against the center, Regents Gallegos and Carson said they recognized the need, but were concerned about the burden on students.
"It feels to me like it's not a good vote when we're going to build this to help the entire university, the city and county of Denver, so on and so forth, on the backs of students and student fees," Gallegos said.