STORY
CU community to join in Denver Pride celebration
University again a sponsor of this weekend's events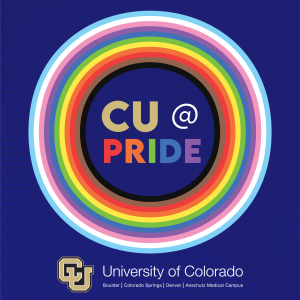 The CU system continues this year as a proud sponsor of Denver Pride, an annual celebration of the LGBTQ+ community set for this weekend.
CU is excited to celebrate and support the diverse identities within the LGBTQ+ community. CU strives to create a safe, inclusive environment where everyone feels they belong and can thrive.
A systemwide planning group of staff and faculty worked to coordinate CU activities tied to this weekend's events, including an entry into Sunday's Pride Parade, with participants from all four campuses and system administration. A team from CU will participate in Saturday's PRIDE 5K race and CU will host a table Saturday and Sunday at PrideFest in Civic Center Park. The festival includes over 250 exhibitors, 30 food and beverage vendors, and live performances throughout the weekend.
Denver Pride is produced by The Center on Colfax, a registered 501-c-3 nonprofit organization that provides year-round programs and services for the LGBTQ+ community. The city's first Pride Month celebration took place in 1975 and was one of many commemorations established across the country following the 1969 Stonewall uprising in New York and years of community organizing and activism in response to discriminatory laws and practices against LGBTQ+ individuals.
Visit the campus websites below for more on Pride across CU: