STORY
CU-Boulder's Conference on World Affairs accessible from anywhere
Live video streams, on-demand audio offer new window into wide-ranging topics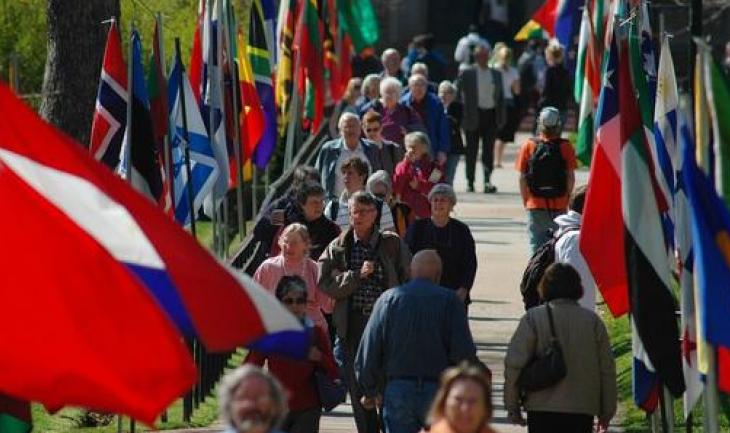 When the University of Colorado Boulder's annual Conference on World Affairs returns to campus for the 67th time April 6-10, you won't need to be in Boulder to enjoy it.
This year the CWA will not just be bringing the world to Boulder but bringing CWA to the world. Audio recordings from all 200 panel discussions, performances and plenaries will be posted within 24 hours of the live event to the conference website, www.colorado.edu/cwa, for on-demand listening. Live stream videos of events in Macky Auditorium, the University Memorial Center (UMC) center ballroom and UMC room 235 also will be available on the CWA website. Recordings also may be purchased from National Conference Recording Services atncrsusa.com or in UMC 247 during the week.
The ability to virtually access audio recordings will bring the more than 100 conference participants — who pay their own way to travel to Boulder from around the country and the globe — to curious people far beyond Boulder's borders.
Scattered throughout the schedule of the week's 200 events are sessions on race, Iran, patriotism, jazz, space exploration, health care, drug policy, film, poverty and many other topics. Unlike other conferences that set an agenda for speakers, the CWA panels are created from topics suggested by the participants.
The full CWA schedule is now available online at www.colorado.edu/cwa.
Gordon Adams, a distinguished fellow at the Stimson Center in Washington, D.C., and a CWA veteran, says the conference is the standout event in his year.
"It is the only meeting in the country where I can feed my right and left brains simultaneously," he said. "It is a cornucopia of gifts, from culture and the arts to science, politics and economics, provided by some of the most entertaining and intelligent people I know. Where else can I read poetry in the morning, solve the federal budget crisis in the afternoon, and the next day do it all over again?"
New York Post associate editorial page editor Robert George, who describes the CWA as his "intellectual spring break," will mark his eighth year of participation at this year's conference.
"That's what the Conference on World Affairs has become for me," he said, "a place to engage in lively conversation with some of the brightest people around." George will serve on panels ranging from "Jon Stewart and the End of a Colb-era" to "We Met On Tinder: Dating and the Decline of Monogamy" at this year's event.
"I've been fortunate to be part of panels on humor, improv, comic books, popular music, television, etc. — truly everything possible," George said.
This year's keynote address will be delivered by Leonard Pitts Jr., syndicated columnist for theMiami Herald. His address, "In a Single Garment of Destiny," is set for 11:30 a.m. April 6 in Macky Auditorium.
The keynote address will be preceded by CWA's colorful, annual opening procession. Led by Pitts and CU-Boulder Chancellor Philip P. DiStefano, the procession will advance at 11:10 a.m. through the avenue of international flags on display in Norlin Quad and into Macky Auditorium, where DiStefano will introduce Pitts.
Other highlights from the 2015 schedule include:
Nuclear nonproliferation expert Valerie Plame Wilson's plenary address, "Do You Wish You Didn't Know: Snowden, Privacy and Democracy," at 1 p.m. April 8 in Macky Auditorium.
Senior astronomer at the Search for Extraterrestrial Intelligence (SETI) Institute Seth Shostak and New York Times best-selling author and astrophysicist David Brin's debate, "Contacting Extraterrestrials: Beware!," at 2 p.m. April 8 in Macky Auditorium.
Television host Richard Alley's Walter Orr Roberts Distinguished Lecture, "Ways Forward on Climate and Energy: Getting Good From What We Do and Don't Know," at 3 p.m. April 8 in Macky Auditorium.
HIV experts Joel Gallant and Charlie van der Horst's talk, "Response to Infectious Disease," at 4:30 p.m. April 8 in Muenzinger E050.
Sarah Weddington, author and attorney on the 1973 landmark Supreme Court Case Roe v. Wade, delivers the Molly Ivins Freedom Fightin' Memorial Plenary, "Walk the Talk: Everyday Leadership," at 2:30 p.m. April 10 in Macky Auditorium.
The Ebert Cinema Interruptus, hosted by author and broadcaster David Bender, will dissect "A Face in the Crowd" from April 7-10. The interruptus takes place each day at 4 p.m. in Macky Auditorium. An uninterrupted screening is at 4 p.m. April 6 in Macky Auditorium.
CWA attendees are encouraged to use public transportation, as there is no event parking on campus. Free parking is offered on the third level of the Macy's parking structure at the Twenty Ninth Street shopping mall in Boulder, at the southwest corner of 30th and Walnut streets. Free rides to campus on the HOP bus are available during CWA week.
The HOP will run on its normal route arriving every 7 to 10 minutes between the hours of 7 a.m. and 7 p.m., Monday through Friday. The two stops nearest the Macy's parking structure are at the intersection of 29th Street and Walnut Street and the intersection of 30th Street and Walnut Street.