STORY
CU-Boulder Facilities Management Mentor Program graduates its second class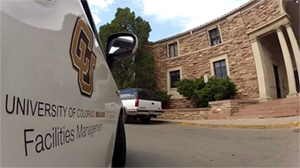 A group of staff from Facilities Management marked completion of the department's Mentor Program on May 23 with a celebratory luncheon. It was the second round of staff to complete the nine-month month program, which launched in 2012 and is unique as one of the few formal mentoring programs at CU-Boulder housed within an individual department.
The program pairs mentors with mentees in an opportunity for professional growth and development. Mentors help their partners identify career goals, involve them in hands-on learning opportunities, and facilitate internal and external networking. Some of the program's broader goals are fostering teamwork, transferring institutional knowledge, and planning for succession as key leaders retire.
Several program participants spoke during the luncheon about how the program impacted them.
"When I came to CU, I had never worked for a government, had a state job, or worked at an institution of higher learning," said Jim Hayden, a custodial team lead. "You might say that I needed a navigator."
Lori Black, lead project coordinator for the department, said that the program helped her feel more comfortable training and supervising new staff. Through her mentor, Lori had the chance to meet people she'd been exchanging email messages with for seven years. "I was inspired and now feel more connected to the university and the people with whom I work," she said.
David Danielson, interim assistant vice chancellor for Facilities Management, stressed how much he learned from serving as a mentor. "We all have the opportunity to impact each other," he said. "If we interact and get our different divisions to work together, everyone gets a better understanding."
Some 14 mentor/mentee pairs participated in the program. The next round of applications will be accepted in August, with the program set to begin in September. For more information, contact Andy Mead (Andrew.mead@colorado.edu; 303-492-7697).