STORY
CU-Boulder degree rated highly nationally for return on investment
Reports indicate healthy salaries for graduates in the workforce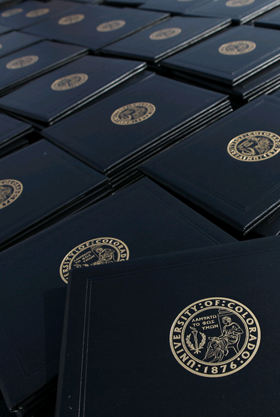 When it comes to landing "good paying" jobs and receiving a high return on investment, University of Colorado Boulder graduates are in good shape nationally, according to two recent reports.
CU-Boulder ranked in the top 20 in a recent report released by SmartMoney that rated the return on investment for 50 of the nation's priciest colleges for out-of-state tuition. CU-Boulder, at No. 19, finished just behind Princeton University and ahead of Harvard University, Cornell University and Yale University in the rankings, which compared starting tuition (class of 2009) to recent and mid-career median salaries of graduates.
CU-Boulder also fared well in PayScale.com's mid-career salary ranking, coming in at No. 35 out of 452 state schools ranked for return on investment.
"This is good news for our graduates," said CU-Boulder Provost Russell Moore, the chief academic officer of the Boulder campus. "It is good news for the constituents of the state of Colorado and the parents of students who attend the University of Colorado."
The median salary for recent CU-Boulder graduates (out of school three years) is $45,000, while the mid-career (out of school 15 years) median salary is $87,100, according to figures compiled by PayScale.com.
"What this shows us is the return on investment for our out-of-state students is very good, but for our in-state students, who receive the same median salary coming out of school, the return is even better because they don't have to put as much money in up front," said Lisa Severy, director of CU-Boulder's Career Services office.
There are several reasons for CU-Boulder graduates excelling in the job market, according to Moore.
"For a large research university, we engage undergraduates in experiential learning," Moore said. "Our students have significant opportunities to engage in cutting-edge research, creative work and studio activities. We engage them at a higher frequency than most other public research universities, in fact, I would argue, many private research universities."
The interdisciplinary nature of the curriculum at CU-Boulder also plays a role, according to Severy.
"We have a lot of programs that are multidisciplinary," Severy said. "Since the world of work is multidisciplinary, this training is especially marketable when you graduate, because our students are used to working with other people outside their specific areas of study."
While proud of the recent rankings, Moore expects the bar to be even higher in the years to come.
"We think we bring a lot of value to higher education and we are very excited about some of our innovative programs that will move the bar even higher," Moore said.