STORY
CU-Boulder chancellor tours seven Colorado communities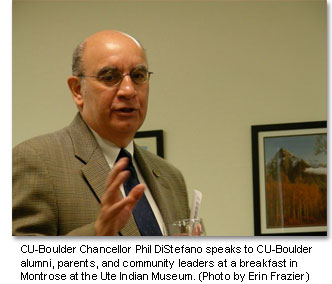 University of Colorado at Boulder Chancellor Phil DiStefano visited seven Colorado communities last month, meeting with alumni, parents, donors, prospective students and community leaders during his first community outreach tour as chancellor.
Vice Chancellor for Student Affairs Julie Wong and CU-Boulder students Bryant Mason and Razan Naqeeb accompanied the chancellor on his May 27-30 "Student Spotlight" tour to La Junta, Salida, Gunnison, Durango, Montrose, Grand Junction and Basalt. The tour was co-sponsored by the CU-Boulder Alumni Association.
At each stop, the chancellor, Wong, Mason and Naqeeb showcased student achievement in a short film and presentations. The tour also included a "Forever Buffs" presentation by the CU-Boulder Alumni Association's Ally Frusciano.
Mason is a junior majoring in environmental studies and economics who leads the group CU Going Local, an organization that promotes the consumption of local foods as a way to promote sustainability. Naqeeb is a junior majoring in economics with a minor in political science who volunteers as a tutor with the I Have a Dream Foundation of Boulder County. Both are Puksta Scholars, a CU-Boulder scholarship program that encourages civic engagement as a key part of learning.
"Our students are CU-Boulder's most compelling story," DiStefano said. "Everywhere we went, people were entranced as Bryant and Razan told of their experiences as CU-Boulder undergraduates, and all were impressed by their strong dual commitment to the classroom and the community."
Vice Chancellor Julie Wong echoed DiStefano.
"People had an idea our students were doing great things, but they were really blown away by the scope of our students' idealism, and by the fact that more than 13,000 of them regularly engage in community service," she said.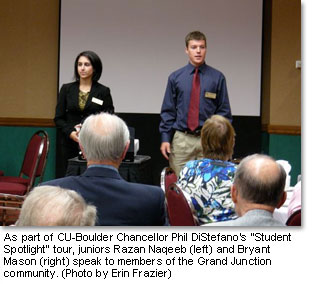 On May 27, DiStefano met with members of the La Junta Rotary Club to update the group on CU-Boulder's Flagship 2030 Strategic Plan. La Junta was one of 16 Colorado communities whose leaders helped shape the long-term campus strategy.
The group then traveled to Salida for a dinner with CU alumni and supporters. In Gunnison on May 28, DiStefano joined alumni and community members for a reception at the Aspinall-Wilson Center at Western State College, and later attended an editorial meeting with editors and reporters at the Gunnison Country Times.
He then traveled to Durango, where he met with Durango Herald publisher Richard Ballantine and one of the newspaper's reporters.
The evening concluded with an event with CU-Boulder alumni, parents, community leaders and Colorado lawmakers Rep. Ellen Roberts, R-Durango, and State Sen. Jim Isgar, D-Durango. Roberts is an alumna of the University of Colorado Law School.
The tour ended on May 29 following an alumni breakfast in Montrose; meetings in Grand Junction with local officials and supporters that were centered on partnerships with Mesa State College and outreach to the Western Slope; and a barbecue in Basalt with alumni that featured Athletic Director Mike Bohn and football Coach Dan Hawkins.
Evaluating the success of the tour, DiStefano said it revealed good news about CU-Boulder's standing in Colorado communities.
"I am struck by the depth and strength of support for CU-Boulder around Colorado," DiStefano said. "People are excited by how we are reaching out to communities all over the state through Flagship 2030, and the way in which our students combine community service with academic work. Our challenge now is to remain close to these vital stakeholders, and work with them to take the university to new heights of success."