STORY
With cross-country tour, bicyclist brings men's depression into light
CU Depression Center to host events at Denver stop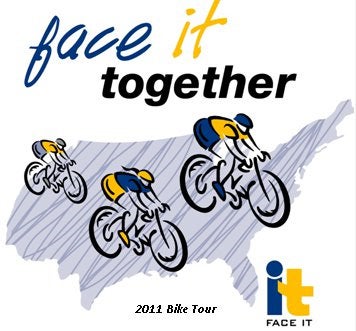 On a quiet September evening in 2002, with his kids tucked in bed downstairs and his wife at work, Mark Meier grabbed the 12-gauge shotgun and pressed the barrel to his mouth. He wanted the pain and struggle, the feelings of worthlessness, the dark days, to end.
Some 14 years before, while in college, he had been diagnosed with depression. Feelings of shame and embarrassment turned him away from treatment. Like many men, he tried to deal with feelings of anxiety and bouts of despondency on his own, and told no one about his illness. Even after studying mental illness and earning his master's degree in social work in 1994, he refused to acknowledge the warning signs; he was a hockey-playing man's man and the stigma was just too great.
To cope with his symptoms, he made friends with alcohol. That only stopped the pain for a few hours. Later he closed himself off, ignored his wife and shunned his playful, happy children. He preferred to focus his energy on work, climbing the corporate ladder. Misery still followed. He thought if he quit his well-paying but stressful job he would get better. Instead, he felt only self-loathing; his outlook on life spiraled ever downward.
Luckily, he never fired that gun in 2002. A few days later, after another brush with suicide, he landed in a psychiatric hospital, and it was there that he began his journey upward to a new life.
This summer, that journey entails a 3,600-mile bicycle ride from Palo Alto, Calif., to New York, aimed at raising awareness about men and depression and reaching a wider audience – all those men who believe they must suffer in silence. After riding up to 80 miles a day, he'll reach Denver on Thursday, June 16; events are planned through the University of Colorado Depression Center. Following a press conference on June 17, a "Men and Depression Strategy Meeting" that is open to the public will be conducted at the center on the Anschutz Medical Campus from 10 a.m. to noon. Events for June 18 still are being confirmed.
About 80 percent of all suicides in any given year are men, even though women make more attempts. At the age of 50, during the so-called mid-life crisis, men are three times more likely to suicide. By age 65, men are seven times more likely to commit suicide than at any other time in their lives.
Experts estimate that, like Meier, as many as 80 percent of people who experience depression don't seek help and keep their problems secret.
Meier's struggles, however, are no longer private. Family and friends now understand why he was never around. The graduate students in his classes at the University of Minnesota where he is an adjunct faculty member have heard the stories. So have hundreds of men to whom Meier has spoken through his Minneapolis-based consulting business, Equalicare, which conducts training and builds programs concerning workplace depression. Meier, now 44, draws on his years as a clinician and personal experiences in his work.
"Over the course of that year-and-a-half that I was out of the hospital, I absolutely dealt with the depression and anxiety," he says. "It's not like it magically went away. It was a lot of reality testing and trying to utilize the skills I learned about managing stress and challenging my negative thoughts."
On the bike tour, crew member and friend Bill Dehkes drives the RV that is wrapped with advertising announcing the newly formed Face It Foundation, an endeavor launched by Meier and Dehkes to encourage men to talk about depression.
"What I want to do with the foundation is bring to life depression management systems for men online, to have an Internet-based forum for men to access," Meier says. "A lot of men are not willing to go to counseling. They're reluctant, sometimes with good reason, to take antidepressants." Medications often have side effects with a sexual component that men are unwilling to accept. But data shows that for mild to moderate depression, psychotherapy is as effective as drugs in many cases.
Meier says the Internet forum "won't necessarily replace counseling, but will get men engaged in learning some coping skills and ways to deal with their depression. And it will be a way to connect men to one another who have been dealing with depression and who have common needs and goals."
For the first leg of his bike ride, which began last month, Meier is riding alone, stopping at hospitals, treatment centers, coffee shops, churches, family picnics – anywhere there are men who could benefit from his experiences.
"The bike ride is an opportunity to partner with organizations that are focusing on depression and see the work that is being done," Meier says. "It was an opportunity to go coast to coast and raise attention and awareness for men and depression. Plus, I love to bike. I've always had this dream of being able to ride coast to coast, so it was a good opportunity when I launched this foundation a little over a year ago to realize a couple of dreams of mine."
As the Denver stop wraps up, on Father's Day, Meier will be joined by his daughter Anna, a high school freshman, and they'll continue the coast-to-coast ride on a tandem bike.
The University of Colorado Depression Center is one of 18 leading depression centers and academic medical centers around the country that belong to the National Network of Depression Centers. Like Meier, the Depression Center is working to reach out to men who are reluctant to ask for help.
"Men are acculturated to push down their emotional life," says Neil Weiner, director of clinical services at the center. "So much of what men do in their lives is just to buck up and deal with it and to put on that outward shell of masculinity and show others they can cope even though they are really, really struggling inside."
Men perceive depression and being unable to deal with it as a weakness. But in reality, says Weiner, it takes strength and courage to get treatment for a disorder that affects their job and family in a negative way.
Formed in 2008, the Depression Center includes clinical services and a research component. Community programs and education also are important to the center.
"For us, partnerships and working with people – like Mark Meier – and organizations is everything," says Matt Vogl, community programs manager at the center. "We need people to bring their ideas and their enthusiasm and efforts if we're really going to make an impact in the state. We know we can't go it alone."
No one can, especially men who have depression. Along the ride, Meier has heard the stories of a Vietnam veteran who has been at war with depression for years, and a college student who described the huge impact his father's illness had on him. Meier listens and offers advice.
Talking about depression is the easy part for Meier now. The two-wheeled ride – with its snowy mountain passes and brutal headwinds – has challenged him physically and mentally.
"I have found myself missing my family, questioning my ability to keep pushing forward, the value of the ride," Meier says. "What I have been able to do, which is something I couldn't do for years while depressed, is to slow myself down and recognize that I can do this. Depression has this wickedly uncanny ability to make you doubt every last aspect of who you are. ... This journey has absolutely been worth it. We have touched several lives already and I am learning to trust myself more and more each day."