STORY
Creating Futures magazine tells stories of fundraising campaign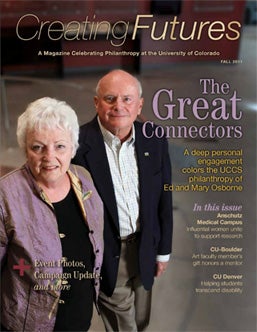 The University of Colorado Foundation has launched Creating Futures magazine, which aims to celebrate philanthropy at CU and generate enthusiasm and support for CU's $1.5 billion Creating Futures fundraising campaign.
The first issue, available in print and online, was introduced Monday through broadcast e-mail to all CU alumni and donors by campaign chairs Bruce and Marcy Benson.
"To ensure our continued success as a nation, we must build on the strong foundation that education provides," reads an introductory letter by the Bensons, who are among CU's most generous donors.  "We believe so deeply in this idea that we have made personal investments in CU."
The online Creating Futures magazine can be viewed here; a version in magazine format is viewable here. The second issue will publish in Spring 2012. Contact jeremy.simon@cufund.org with feedback or ideas related to Creating Futures magazine.