STORY
Conflict in Crimea close to home for faculty, staff member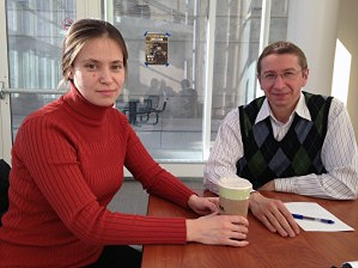 Dramatic images of Russian soldiers, buildings on fire, and streets in the Ukranian republic of Crimea filled with protestors are difficult for two UCCS community members to watch.
Anatoliy Glushchenko, associate professor, Department of Physics and Energy Sciences, and Oksana Glushchenko, accountant, Resource Management, shared their experiences and knowledge of the conflict in the hope of helping other Americans understand the turmoil in the Eastern European nation. The issues are complicated and long-standing, but they do not believe Ukraine will collapse or that fighting will spread to the Ukrainian mainland.
"We are hoping for the best," Oksana said. "We hope the fighting will stop where it started."
The Glushchenkos have spoken with friends and family in the Ukraine and shared those accounts, as well as their personal experiences in the country. They immigrated to the U.S. in 2000, joined UCCS in 2005 and 2006 and became U.S. citizens in 2013. Over coffee at Daz Bog, a Russian-American owned campus coffee shop, the couple shared their impressions of the conflict that has dominated world news.
"With 45 million people, Ukraine is the largest European country," Anatoliy said. "When you look at the map, it is the size of France and population is about the same. But because of the fact it was behind the Iron Curtain, people know little about Ukraine."
Ukraine borders Russia, Poland, Slovakia, Hungary and Romania. With the 1991 collapse of the Soviet Union, the country became an independent democracy, a path that Anatoliy believes fit with its long history and the desire of its citizens. He estimated that 80 percent of Ukrainian adults have advanced degrees as well as long-standing gender equality beliefs. Those factors helped the nation to quickly embrace concepts of capitalism and democracy.
The February ouster of Ukrainian President Viktor Yanukovychin by the country's Parliament is an example of democracy in action, Anatoly said. But it was that move by Parliament, and Yanukovych 's turn to Russian leaders for help, that led to the Russian troops occupying  Crimea, an autonomous republic of Ukraine on the north coast of the Black Sea. Crimea is important for military and trade access and was part of Russia until the 1950s.
Following the breakup of the Soviet Union, Ukraine agreed to give up its nuclear weapons in exchange for agreements from the U.S., United Kingdom and Russia about the integrity of its territory. Enforcement of those agreements has placed the country in the midst of a diplomatic tug of war. U.S. Secretary of State John Kerry will meet with his Russian counterpart, days ahead of a planned referendum by the citizens of Crimea. President Obama has criticized Russian actions.
Anatoliy praised the international community for its quick reaction.
"That's how it should be in a civilized, modern world," he said.