STORY
Competition helps spur marketing campaign
Faculty Council hears details on system's All Four:Colorado initiative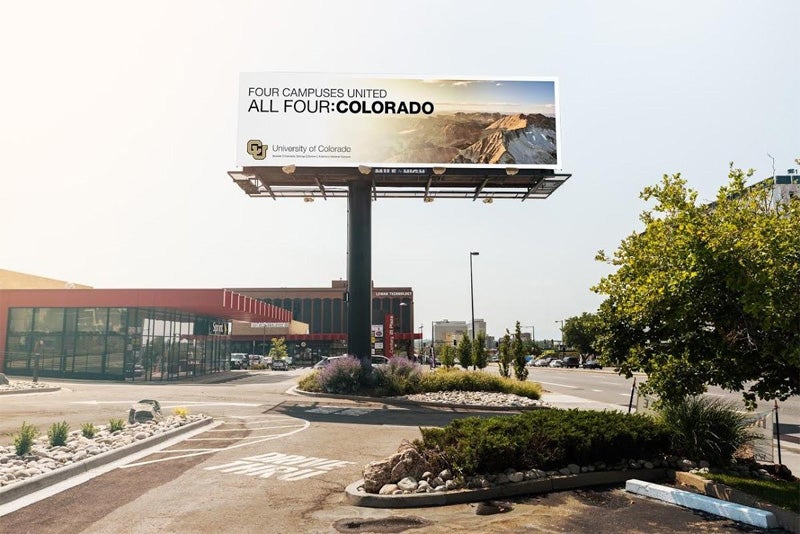 The University of Colorado's systemwide marketing initiative aims to shine light on the institution's contributions to the state and further build the CU brand in an increasingly competitive marketplace.
That's what Faculty Council heard from Ken McConnellogue, vice president of communication, during the governance group's Oct. 22 meeting at 1800 Grant St.
"Why does the University of Colorado need to market itself at all? If I could sum it up in word, it would be 'competition,'" McConnellogue said. "We face competition for the best students, top faculty and staff, donations, state dollars and research funding. We're in competition against many competitors: institutions in the state and across the country, proprietary schools and online schools."
CU's All Four:Colorado campaign entered the execution phase in early September and now is accelerating, he told the council. TV spots, display ads in newspapers and other print publications and billboards tout the missions and contributions of CU's four campuses.
"We here are aware of the wonderful things that happen at this university, but not everyone in our state knows it," McConnellogue said. "We're the leading higher education institution in the state, and that's one of the things we have to demonstrate here."
The second phase of the campaign will emphasize brand strategy, establishing the idea of "We're helping you create the Colorado you want."
Council member Melinda Piket-May asked whether the campaign, initiated at the request of President Bruce Benson, had garnered support at the chancellor and provost levels on the four campuses.
"We do have good support," McConnellogue said. "One of the things the market research told us is that when people think of the University of Colorado, they think of Boulder (only). We have to change that. We all know the strengths of all our campuses and the contributions they make to the economy, health and culture of our state and beyond. So I think we've got pretty broad-based support internally."
McConnellogue said the campaign also has the potential to frame a potential ballot initiative aimed at addressing state funding for higher education.
"The president has commissioned a fair amount of polling to see what will fly with voters. Traditionally, higher education polls at extremely low levels," McConnellogue said. "But the mood of voters is considerably better than it was in the last election cycle. Nothing specific is in place, but it's very much on our minds as we engage in this initiative."
In other business at last week's Faculty Council meeting:
The council heard an update on state and federal legislative activity from Tanya Kelly-Bowry, vice president of government relations, and Jack Waldorf, director of federal relations. At the federal level, potential patent reform might affect technology transfer offices at institutions such as CU. The state budget continues to be a concern locally, with TABOR refunds continuing to hold sway over whether CU and higher education see budget cuts next year. Potential legislative pursuits in 2016 include increasing flexibility for capital construction expenses as an efficiency measure.
Council Chair John McDowell said the group's Dec. 3 meeting will take place concurrently with a holiday lunch, partly taking the place of the canceled fall retreat. "We'll probably have a spring retreat," he said.