STORY
Commencement to honor record-setting number of degree candidates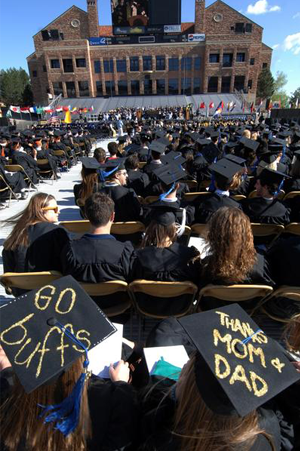 The University of Colorado Boulder will hold its spring graduation ceremony at 8:30 a.m. Friday at Folsom Field.
The ceremony will honor candidates for 6,237 degrees, including 4,830 bachelor's degrees, 994 master's degrees, 162 law degrees and 251 doctoral degrees for spring and summer.
The number of degree applications is the largest in the school's history, and comes four years after the record-setting freshman class of fall 2008. That year, 5,833 freshmen enrolled, exceeding the previous record-setting class of 2006 that enrolled 5,617 freshmen.
The majority of bachelor's degree recipients who entered CU-Boulder as freshmen are graduating in four years, according to the university's Office of Planning, Budget and Analysis. Data from November 2011 show that almost 60 percent of 2010-11 bachelor's degree recipients who started at CU-Boulder as freshmen earned their degrees in four years or less.
This year's commencement address will be given by Timothy V. Wolf, president of Wolf Interests Inc. Wolf is the former global chief financial officer of Molson Coors Brewing Co. and has served on the boards of Xcel Energy, Rally Software Development, eTown and the Leeds School of Business.
Stadium gates will open at 7 a.m. and guests are urged to be in their seats by 8:15 a.m. in order to watch the processional into the stadium. Each spring the commencement ceremony begins with a procession of faculty and all graduates starting at the Norlin Quadrangle at 8 a.m. and ending at Folsom Field.
University officials recommend that people arrive as early as possible to avoid traffic delays. The ceremony is free and open to the public.
Guests are asked not to bring large purses or bags to the ceremony. People entering the stadium may be subject to search. The ceremony will be held outdoors in the stadium regardless of the weather. In the event of heavy rain or snow an abbreviated ceremony will be held.
Many departments within CU-Boulder's schools and colleges will hold events to personally recognize their graduates. Students should check with their individual departments for more information. For a schedule of individual ceremonies visit http://commencement.colorado.edu/ceremonies/spring/other-events/.
For more information about the commencement ceremony visit http://commencement.colorado.edu. The ceremony will be broadcast on the Web and can be accessed by visiting the commencement website and clicking on the webcast link anytime during the ceremony.
More details on how long it takes CU-Boulder students to earn bachelor's degrees can be found on the Office of Planning, Budget and Analysis website at http://www.colorado.edu/pba/degrees/ttd/.
Cover and insert photos by: Casey A. Cass and Glenn J. Asakawa/University of Colorado