STORY
Columnist-author Pitts to deliver keynote at Conference on World Affairs
CU-Boulder tradition returning for 67th year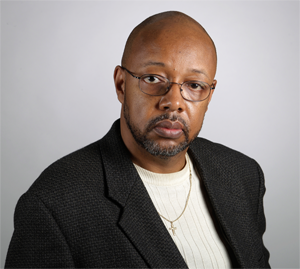 Pulitzer Prize-winning columnist Leonard Pitts Jr. will deliver the keynote address at the annual Conference on World Affairs, set for April 6-10 at the University of Colorado Boulder.
CU's perennially popular rite of spring is returning for its 67th year. Last year's CWA attendance was 77,700 at 200 sessions over five days.
Pitts' address, titled "In a Single Garment of Destiny," is scheduled for 11:30 a.m. April 6 in Macky Auditorium.
Pitts is a nationally-syndicated columnist for the Miami Herald and winner of the 2004 Pulitzer Prize for commentary. Pitts has won dozens of awards in a career that has spanned more than 35 years as a columnist, professor, radio producer, author and public lecturer. He has published four books: "Becoming Dad: Black Men and the Journey to Fatherhood" (2006); "Forward From This Moment: Selected Columns, 1994-2008" (2009); "Before I Forget" (2009); and most recently, "Freeman" (2012).
The keynote title is inspired by a quote from Martin Luther King Jr.: "All life is interrelated. We are all caught in an inescapable network of mutuality, tied into a single garment of destiny. Whatever affects one directly, affects all indirectly."
According to Pitts, "The speech will be about deconstructing the myth of race."
"We tend to believe it is something somehow predestined and discernible with scientific exactness." Pitts said. "It is actually something completely arbitrary, totally fabricated and, according to scholars, relatively new (about 300 years or so) in human experience. It is, in other words, something we chose. I submit that if we chose to believe in it, we can just as easily choose not to."
Preceding the opening keynote will be the traditional keynote procession into Macky through the CWA's colorful "avenue of international flags" in Norlin Quad at 11:10 a.m.
The keynote procession and address is a time-honored Boulder tradition. Past keynote speakers include Eleanor Roosevelt, Henry Kissinger, Arthur Miller, Charles Krauthammer and Chuck Hagel.
Says CWA Director John Griffin, "We are thrilled to have Leonard Pitts join the distinguished history of CWA keynote speakers. His address could not be more timely, as the issue of race has once again regained center stage in this country. We are so very pleased to have this opening keynote address kick off our 2015 event, which will also feature some well-loved, past CWA speakers and an exciting new roster of guests."
All Conference on World Affairs sessions are free and open to the public, making the CWA the largest, most accessible event of its kind in the country. A listing of participants confirmed to date is now online here. The full CWA schedule will be posted to www.colorado.edu/cwa in late March.