STORY
COLTT Conference to welcome Dr. Kiki
Science journalist slated for keynote at annual tech teaching event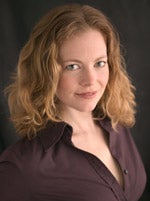 The 15th Colorado Learning and Teaching with Technology Conference (COLTT) will welcome renowned science journalist Kirsten Sanford, Ph.D., of the "Dr. Kiki's Science Hour" podcast as the conference's 2012 keynote speaker.
Sanford recently participated in the Conference on World Affairs at the University of Colorado Boulder as a panelist for a variety of topics, including the session "Technology: Hurting or Helping." Her work helps us understand how our brains are constantly developing and adapting to the technology that we create. To learn more about Sanford, please visit her website at http://www.kirstensanford.com/.
COLTT 2012, set for Aug. 1-2 in the Wolf Law Building on the CU-Boulder campus, is shaping up to be another great opportunity for faculty and graduate students to network and to gain access to new ideas and technologies that can be incorporated into classroom and online teaching. Attendees will find sessions on gamifying the classroom, info graphics, flipped classrooms, learning analytics, and Google apps, among other topics.
Registration and scholarship opportunities for the conference, now are available. Request a scholarship or register directly for COLTT on our registration page: http://www.cu.edu/coltt/2012/registration.html. Arts and Sciences Support of Education Through Technology (ASSETT) (http://assett.colorado.edu) is offering scholarships for Arts and Sciences affiliates; the Alliance for Technology, Learning, and Society (ATLAS) is offering up to three scholarships for its affiliates; and the Graduate School is offering scholarships for up to four CU-Boulder graduate students.
Reduced rates for registration end July 7.
COLTT engages participants in learning about teaching practices and technologies, challenging the way they think about both. By attending presentations and hands-on workshops, attendees are able to network and gather effective practices that change the way they teach and learn in classrooms, online, and in virtual environments.
COLTT 2011 attendees said:
"I've been designing and redesigning my courses for a while to make them more engaging and this presentation gave me many wonderful new ideas..."
"Good value for the money."
"I love that everyone is so approachable."
Attendees join COLTT each year from a broad range of educational institutions and private organizations. Many Colorado colleges and universities are well-represented, as are numerous post-secondary schools and community colleges from the Rocky Mountain region. The event also draws a scattering of attendees from as far away as California, Canada, Pennsylvania, and Germany. Renewal credit for educators is available where applicable, and upon request by attendees.
COLTT is sponsored by the Office of Information Technology, ASSETT, the ATLAS Institute, and a number of exhibitor sponsors. Questions about COLTT 2012 may be directed to Deborah Keyek-Franssen, Conference Director, deblkf@colorado.edu or Jill Lester, Conference Coordinator, coltt@cu.edu.