STORY
Colorado Law's Krakoff receives Chase Faculty Community Service Award
Professor dedicated to underrepresented people and natural resources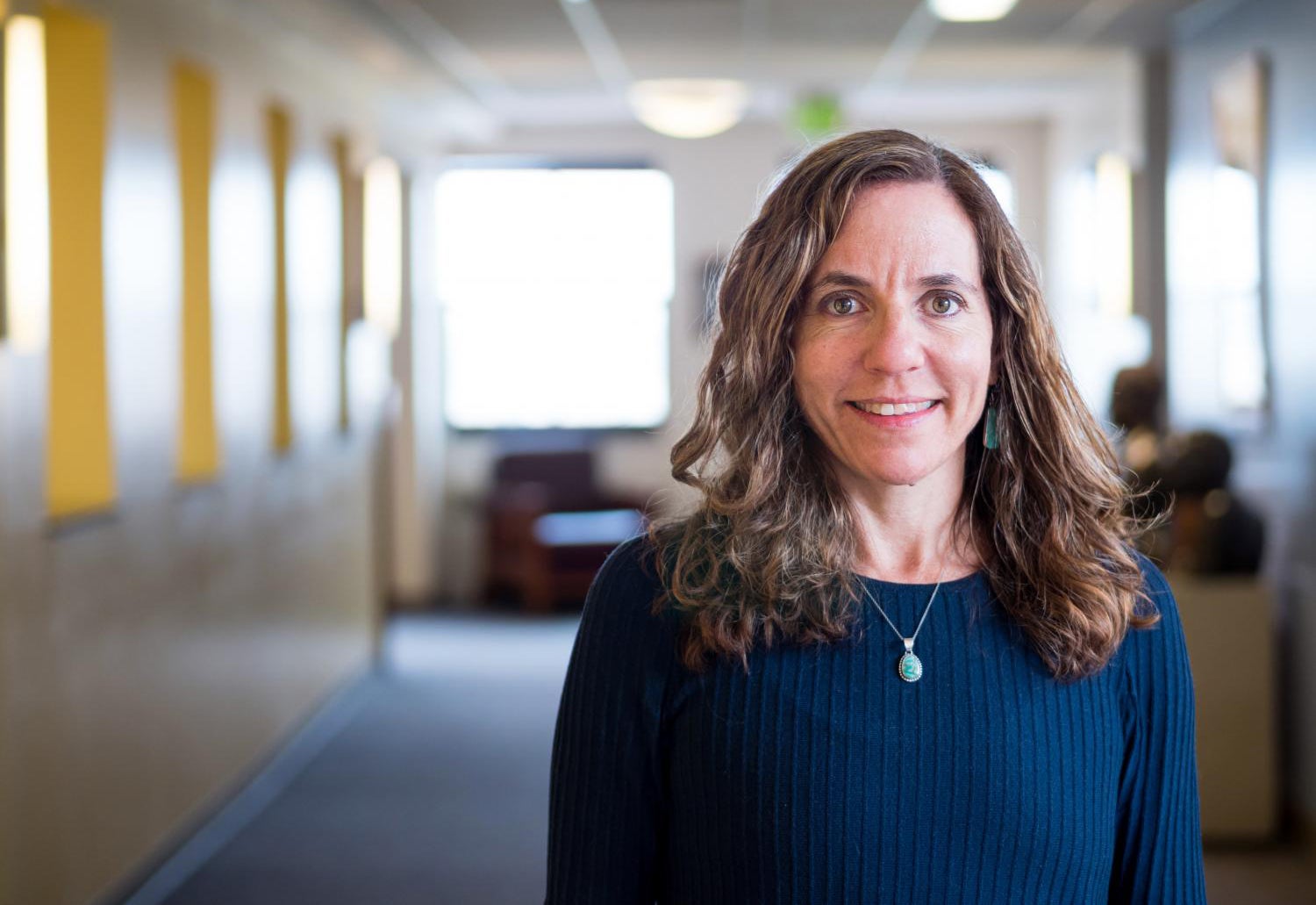 A nationally recognized scholar in American Indian law and natural resources law, the University of Colorado's Sarah Krakoff, J.D., is the recipient of the 2017-18 Chase Faculty Community Service Award.
Krakoff is the Moses Lasky Professor of Law and Associate Dean for Faculty Affairs and Research at the University of Colorado Law School, CU Boulder. Her work benefits the country's public lands and the underrepresented populations who rely on them. She applies interdisciplinary scholarship to her teaching in creative ways, providing CU law students with transformative experiences within – and beyond – the classroom.
The Chase Faculty Community Service Award is presented annually to a full-time CU faculty member who provides exceptional service to the community. An advisory council recommends an award-winner to CU President Bruce D. Benson, who bestows the honor, which includes a $10,000 grant sponsored by an endowment from JPMorgan Chase through the CU Foundation.
During her 22 years at Colorado Law, Krakoff has dedicated herself to indigenous communities and public lands. Along the way, she has developed programs that help low-income populations: The Acequia Project, which she leads, helps law students learn while providing free legal services to low-income farmers seeking to protect their water rights in Colorado's San Luis Valley.
"Professor Krakoff is preserving the past, improving the present and safeguarding the future for the acequia farmers of the San Luis Valley," wrote Colorado Law Dean S. James Anaya in the award nomination. "At the same time, she is creating a new generation of lawyers dedicated to helping humanity."
Krakoff's many published works include "American Indian Law: Cases and Commentary," co-authored with Bob Anderson and Bethany Berger; "Tribes, Land and Environment," co-edited with Ezra Rosser; and articles in the Stanford Law Review, California Law Review and other law journals. She regularly contributes to amicus briefs in American Indian law and public lands cases in federal courts across the country and serves on the board of trustees of the Grand Canyon Trust.
Before joining the Colorado Law tenure-track faculty in 1999, Krakoff directed the American Indian Law Clinic and secured permanent university funding to ensure the clinic's future. She began her legal career at DNA-Peoples Legal Services on the Navajo Nation, where she initiated its Youth Law Project with an Equal Justice Works fellowship. Krakoff earned a bachelor's degree from Yale University and a juris doctor from the University of California, Berkeley.
"I feel fortunate every single day to have a career that allows me to work with dedicated and passionate students on projects that might make some positive difference for low-income communities and the environment," Krakoff said. "To receive an award for helping to serve these communities is truly humbling. I am beyond grateful to my students and colleagues for nominating me for the Chase Award, and to CU for being supportive of my outreach throughout the years."
The Chase Faculty Community Service Award – established in 1991 with a $100,000 donation – is funded annually by an endowment from the JPMorgan Chase Foundation through the CU Foundation. The endowment provides an annual award of $10,000 to a full-time faculty member at the University of Colorado who has rendered exceptional service in his or her community.
Krakoff will be formally recognized for her Chase Award today at CU Boulder.
Chase is the U.S. consumer and commercial banking business of JPMorgan Chase & Co. (NYSE: JPM), a leading global financial services firm with assets of $2.6 trillion and operations worldwide. Chase serves nearly half of America's households with a broad range of financial services, including personal banking, credit cards, mortgages, auto financing, investment advice, small business loans and payment processing. Customers can choose how and where they want to bank: 5,100 branches, 16,000 ATMs, mobile, online and by phone. For more information, go to Chase.com.