STORY
Colorado launch firm picks CU-Boulder for first free ride to space
ULA aims to boost educational mini-satellites from U.S. universities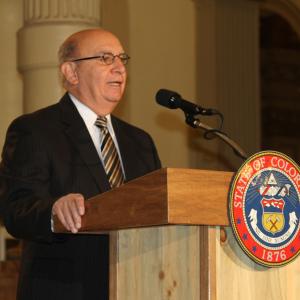 Courtesy ULA
Typically weighing in at 3 pounds and no bigger than a box of facial tissue, a CubeSat is small yet more than capable of carrying scientific payloads into space. For years, university students like those at CU-Boulder have developed these mission-ready, miniaturized satellites affordably.
What isn't so affordable is getting them into space.
That's changing: United Launch Alliance (ULA), the Centennial-based launch service provider, is promising free rides to space for university STEM work on future Atlas V missions. ULA's Nov. 19 announcement of the new program at the Capitol prominently featured CU-Boulder, and with good reason.
"The first free ride to space for a CubeSat is going to be your ride," said ULA President and CEO Tory Bruno as he introduced CU-Boulder Chancellor Philip DiStefano.
"We're delighted that CU-Boulder students have been offered the first spot," said DiStefano, who noted that CU students have been building satellites for 20 years. CU-Boulder has launched six missions with ULA since 2006.
Also appearing at last month's news conference was Lt. Gov. Joseph Garcia, who also serves as the state's executive director of the Department of Higher Education.
"This is exactly the kind of collaborative innovation that we celebrate in Colorado," Garcia said. "Here, we have a Colorado company giving Colorado students at a Colorado university an unbelievable opportunity to send a satellite into space. What a great day for our state."
A typical CubeSat is a 4-inch cube designed to support research, science, communication and Earth observation. ULA has launched 55 CubeSat payloads to date.
The value of sharing a ride is considerable, given that a rocket launch costs tens of millions of dollars. Rocket capacity could allow ULA to sell up to 12 CubeSat spots on each upcoming commercial mission. But three of those spots on both of the next two missions, the first of which is in 2017, will be awarded free to U.S. universities who compete for them.
"This is really opening up an opportunity for our engineering and science students, and it supports the development of future technologies," said Scott Palo, associate dean for research in Aerospace Engineering Sciences at CU-Boulder. "It's also very relevant to the Grand Challenge."
Bruno said ULA aims to eventually add university CubeSat slots to nearly all Atlas and Vulcan launches.
"There is a growing need for universities to have access and availability to launch their CubeSats and this program will transform the way these universities get to space by making space more affordable and accessible," Bruno said.
Read more on how ULA will allocate the university spots here.