STORY
Chemistry scholars know support is chance to pursue dreams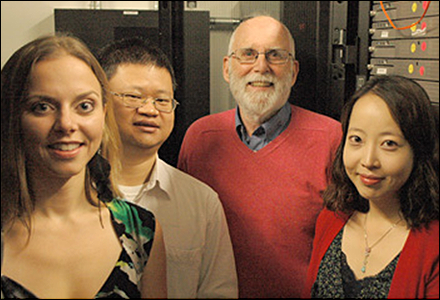 In the basement of the Auraria Science Building, you'll find two very different CU Denver chemistry students working in the same lab, beaming with the same immeasurable appreciation for the same scholarship, saying it's making all the difference in the world for them.
Christal Davis and Nara Chon are this year's recipients of the Robert Damrauer Scholarship, a $2,500 award that honors outstanding chemistry students and named after one of the university's founding faculty and chemistry Professor Robert "Bob" Damrauer. Both students discovered a passion for the field after considering a different career first. Davis thought she'd get into health care. Chon at one time was going to be a teacher. Davis caught the chemistry bug after taking an organic chemistry class. For Chon, it was computational chemistry.
"That lab changed everything," said Chon, a 31-year-old undergrad from South Korea.  She believes what help her stand out was winning the Chancellor's Award in Undergraduate Research at the 2013 Research and Creative Activities Symposium.  It's work she's doing under the guidance of Hai Lin, Ph.D. whose support has her looking at new academic and career goals. Davis also credits Lin with being a big part of her new career path.
Support gives chance to follow dreams
While neighbors in the lab, the chemistry majors have very different worlds outside. Davis balances school and work with her 5-year-old son who started kindergarten this year. Chon, who moved to Denver just seven years ago, is looking to start her family while staying focused on becoming a theoretical scientist. They found support in those areas from Damrauer and his wife, Lennie, when the couple took a step beyond the financial gift and treated the young scientists to lunch. It was a chance to talk, share and get to know one another outside of the classroom and lab.
Chon credits that lunch with being part of an amazing summer which included a trip to Norway to learn from Natalie Reuter, famous in molecular modeling.  She says it was Lennie, a scientist herself and mother to two sons, who gave her the reassurance that she could pursue her dream in theoretical science while having a family too.  Lennie has a Ph.D. in chemistry, earning it back in the 1960s when few women took on such a dream.
Davis says what she appreciated about lunch was seeing the human side.
"I can definitely say I wouldn't be where I am today if I didn't have a supportive scholarship like Dr. Damrauer's," said Davis.
Plans to give back
The Robert Damrauer Scholarship is one of many scholarships in the CU Denver College of Liberal Arts and Sciences (CLAS).     Both Chon and Davis have previously received financial support from the Marti Barrett Scholarship, an award honoring undergraduate scientists and named for the late Marti Barrett, former CU Denver chemistry professor and registrar.  Both the Barrett and Damrauer scholarships are endowments, which means monetary contributions to these scholarships are invested so the award can be given in perpetuity.  CLAS started the Damrauer Scholarship as a way of saying thanks to Damrauer, now the university's associate vice chancellor for researcher, for his decades of service and teaching. Davis said she will return the support when she can.
"Once I am able, I will make a scholarship.  I will do it.  I'm just not sure when," she said with a smile.