STORY
Cheers to the cheerleaders: Brightest CU Advocates honored
Advocacy program celebrates fifth anniversary at awards reception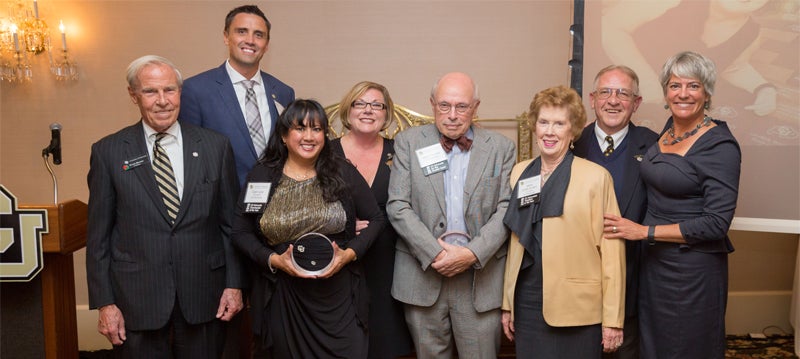 Trevr Merchant
Celebrating its fifth anniversary, the CU Advocates program on Oct. 4 honored six of its members with awards during a reception at the Denver Country Club.
The recognition was given for exceptional advocacy on behalf of the University of Colorado.
More than 100 people attended the event, hosted by President Bruce and Marcy Benson. The CU Advocates program now counts 3,300 members around the world.
The program presents about 37 social and informational events annually across the state, showcasing various aspects of CU's educational, outreach and service missions.
"Our growth is steady, our partnerships with other organizations are relevant and the need for people's interest to learn more about CU is insatiable," said Michele McKinney, assistant vice president for external affairs and advocacy. "I am very pleased with the trajectory of the program."
Trevr Merchant
She joined President Benson in presenting the awards, capped by Advocate of the Year honors going to Kimbirly Orr of Centennial. The longtime booster was chosen for her commitment to being the most informed and engaged CU Advocate.
A past president of CU alumni chapters in metro Denver and Los Angeles, she is credited with raising awareness of the CU Advocates program among a wide circle of colleagues.
"Kimbirly has demonstrated a great level of grassroots advocacy to help support and promote CU in her own unique way, and leveraging her leadership role with the Forever Buffs Metro Denver Alumni Chapter and the alumni boards and organizations she selflessly serves on," McKinney said.
Orr regularly promotes joint events with the CU Advocates and works to advance the program via social media, marketing concepts and regular attendance at CU events. The reception featured a screening of this testimonial video.
"I was overwhelmed to receive such a prestigious award from my alma mater," Orr said. "I gratefully serve on the CU Advocates board because I believe CU Advocates is the most important program in the CU system. It provides great opportunities to volunteer, to serve and to become educated about everything CU is doing on all four campuses."
The other awardees recognized at the annual celebration are:
Marty Coffin Evans and Robert Trembly of Boulder, CU Advocates Travelers of the Year: It's rare that the couple's frequent travel plans don't include ties to CU, whether it's a Buffs football game in Hawaii or the NASA MAVEN launch in Florida. Both are donors and members of the CU Directors Club; Evans also is a member of the CU Foundation Board of Trustees and a founding member of Women Investing in School of Education.
Herb Fenster of Boulder, CU Advocate for the Greater Good: A CU Boulder parent, he was selected for his advocacy to support public higher education in Colorado. His law firm provides substantial pro bono service, including work on the TABOR lawsuit. He has served on several boards at CU Boulder, including the Center of the American West, the Student Affairs Advisory Board and the board of the ATLAS Institute, which he helped create.
Cam Low of Boulder, CU Advocate Cheerleader of the Year: The CU Boulder alumna leverages social media, graphic design and photography skills to promote CU events – including Grad Bash, Buffalo Bike Classic and CU Scoop – where she frequently volunteers. She earned kudos for her commitment and enthusiasm to all things CU, including serving on the CU Boulder Alumni chapter board, and for recruiting new members to the Boulder Forever Buffs and CU Advocates.
Zach Rothmier of Denver, CU Advocate Supporter of the Year: The self-proclaimed "Lynx-Buffalo hybrid" – master's from CU Denver, bachelor's from CU Boulder – was commended for putting his passion for and knowledge of CU into motion. He ended his Board of Regents campaign after eight months, but not before touting CU extensively across the 1st Congressional District. He worked at CU's Center for Education Policy Analysis and has joined the CU Advocates advisory board.
Among the attendees at the Oct. 4 event were three past winners of CU Advocate of the Year: Colin Finch (2015), George Gramer (2014) and Alvin Rivera (2013).