STORY
Chancellors report progress on University of Colorado Connect
Regents encouraged by online growth, but impatient with pace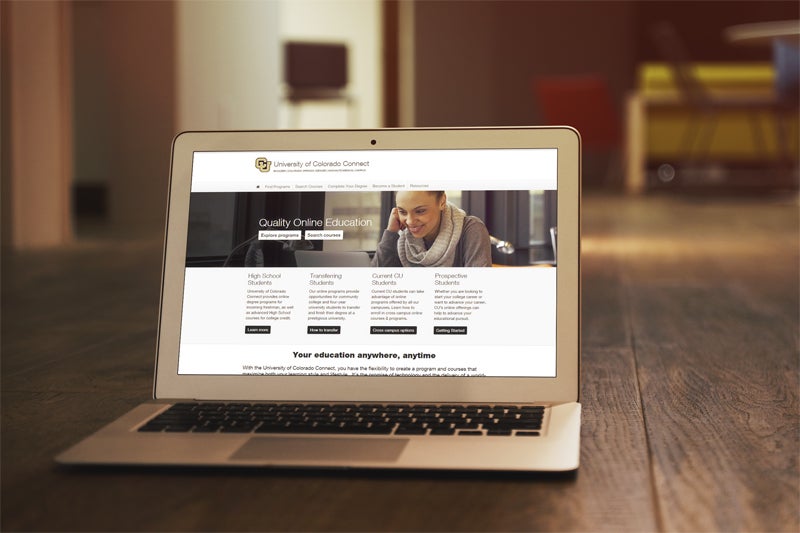 CU's efforts to establish a united, collaborative portal for online education across the system – University of Colorado Connect – have begun to show dividends, four CU chancellors reported to the Board of Regents at the Nov. 5 meeting at the University of Colorado Boulder.
"We have accelerated our efforts and I think it's exciting," said UCCS Chancellor Pam Shockley-Zalabak, who was joined by Chancellor Phil DiStefano, CU-Boulder, interim Chancellor Jerry Wartgow, CU Denver, and Chancellor Don Elliman, CU Anschutz Medical Campus.
The chancellors formally teamed to advance CU's online presence a year ago during a board meeting. Task force work began prior to that, in 2012; since then, the initiative's impact is apparent in several figures:
Courses offered online across the system have risen by 331, from 1,049 in to 1,380
The number of online course sections has jumped from 1,971 to 2,365
Overall enrollment has risen from 36,093 to 42,982, a 6.6 percent increase
Student credit hours grew from 108,017 to 126,547
DiStefano told the board that the online platform – while creating a unified presence for the four campuses to offer online courses and degrees – does not represent a fifth University of Colorado campus.
"The goal of the initiative is not to duplicate courses already offered, but to allow each campus to focus on niche areas in which they excel," DiStefano said. "At CU-Boulder, one key area of focus will be bringing the current and new professional master's degrees into the online forum so that they will be available to students all over the world who aren't able to make it to the Boulder campus."
Keeping the degree-granting process in the current campus structure permits more rapid acceleration, Shockley-Zalabak said.
The leadership team is now working with the budget and finance committee on sustainable funding models. Shockley-Zalabak said she is confident they can expand on the startup funding from the CU system to include campus funding. She estimates a 50-50 match between the centralized funds and campus contributions.
While some regents praised the chancellors for their progress, some thought it was too little, too late. Regent Glen Gallegos, R-Grand Junction, voiced frustration with the amount of time that has been spent on the initiative, saying he feels that CU is late to the online education game already.
"I think it has taken us a long time to roll this out. It's going to take us longer to get it done. I think we're too slow with this," he said.
Regent Linda Shoemaker, D-Boulder, also expressed a desire for more immediate results.
Stephen Ludwig, D-Denver, introduced a draft resolution for consideration to establish an online-only, three-year, general studies liberal arts undergraduate degree, to be provided through resources offered by all three general campuses. Under this plan – brought forward by Ludwig, Shoemaker and Irene Griego, D-Lakewood – the faculty and staff from across three campuses would be encouraged to enter a competition to launch the program by the 2018-19 academic year.
The draft is only a starting point, Ludwig said.
"We want to give them time to say 'Interesting idea; this might work, this won't work,'" he said. "This is the beginning of the conversation, not the end."
As it stands, the team that is selected to develop the course would receive a $3.3 million dollar prize to be used for course development and developing the infrastructure, and to reward participating faculty, staff and students. The proposal has not yet had campus feedback from the offices of the provosts or the Office of Academic Affairs, which will be provided before the next regents meeting. Read more on the proposal here.
Ben Neeser contributed to this story.